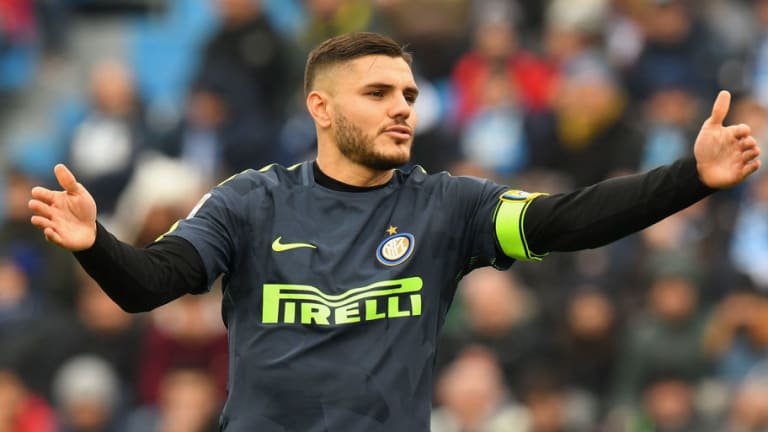 Argentina Boss Claims Inter Superstar Mauro Icardi Is 'Almost Tempted' by a Move to Real Madrid
Argentina boss Jorge Sampaoli has claimed that Internazionale striker Mauro Icardi is 'almost tempted' by a move to Real Madrid, as speculation ramps up about the future of the striker.
Los Blancos have reportedly been observing the Argentinian forward – who has a return of 18 goals in Serie A this season – to help strengthen the squad during an underwhelming season.
While the Spanish champions sit fourth in La Liga, a staggering 19 points behind their fierce rivals Barcelona, it is more likely that Icardi would be targeted for a summer move, with president Florentino Perez preferring not to do business in the winter window.
Argentina coach Sampaoli spoke to journalists at the airport in Buenos Aires as he returned from a European tour, and revealed that Icardi could be swayed by a move to the Spanish capital, according to AS.
"It's a nice problem to have to have the riches of strikers in the team and when all of them are going through good moments," the former Inter boss said.
He continued: "I spoke with Icardi and I told him what I told everyone: 'that if you keep focused, if he is going well, he will be called up. Icardi is being watched and almost tempted by Real Madrid."
While Real Madrid are unlikely to sign any players in the current transfer window, that scenario will surely change in the summer, as the Champions League holders will be on the lookout for a long-term replacement to Karim Benzema, who has a tally of just two goals in 14 La Liga outings this campaign.
Icardi signed a five-year contract with Inter back in October 2016 and has publicly stated that he wants to play out the rest of his career with the Nerazzurri. However, he caused a stir on social media when he posted an image on his Instagram account which read "to say goodbye means to grow," with the caption "Goodbye" and a pair of waving emoji.
Many fans interpreted the post as an early farewell, but Icardi's future rests on whether Inter make the Champions League or not. They currently sit fourth in Serie A and have failed to pick up a win in seven matches.