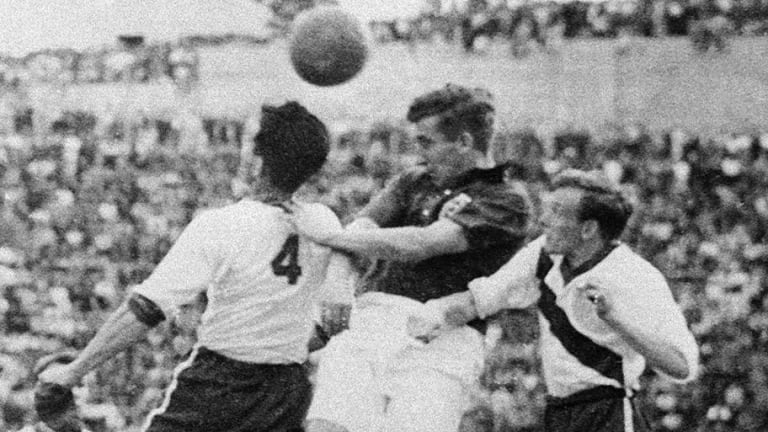 World Cup Countdown: 17 Weeks to Go - England's Greatest Ever Defeat, the 1950 Loss to USA
Legend has it that when word came through about England's 1-0 loss against the United States at the 1950 World Cup, many people assumed it was an error and incorrectly believed that it must have been a hoax, or a misreported 10-1 or 10-0 English victory instead.
Not since the American Revolution of 1776 had a band of improperly prepared Yanks pulled off such an upset against the might of England and there was surely no way it could ever happen on a football pitch. The Americans, after all, played baseball and their own unique version of 'football', while England was the birthplace of the 'beautiful game'.
(You may also be interested in 'World Cup Countdown: 17 Weeks to Go - Brazil's Prolific Nearly Man, Ademir')
Since the end of the Second World War, England had won 22 of all 29 games they played, including victories over a revered Sweden side, as well as a thumping 4-0 win in Turin against a very strong Italian team yet to be wiped out by the tragic Superga disaster of 1949. In that time they had only lost four times and had won six straight games immediately prior to the World Cup in Brazil.
England felt they should have won that World Cup, not that anyone English really cared. The FA didn't need a tournament to determine which international team was the best; they already knew, or so they thought. Even after what ultimately a disastrous World Cup, it was false superiority that wouldn't really subside until a few years later when a tactically and technically inferior England team was humbled 6-3 by Hungary's 'Magical Magyar' generation at Wembley and then 7-1 in Budapest.
The World Cup tournament was 20 years old in 1950, but England had never before competed. A disagreement with FIFA over payment to amateur players prompted an English withdrawal from world football's governing body in 1928, a self-imposed exile that lasted until 1946.
(You may also be interested in 'World Cup Countdown: 18 Week's to Go - Finding Czechoslovakia's Lost Golden Boot Winner')
As such, the World Cup was yet to really pervade and infiltrate the English psyche and the team's progress in Brazil wasn't even the most important English sporting news at the time. On the very same day as England were losing against the Americans at football, the nation's cricket team was suffering its own unthinkable upset at Lord's; beaten by the West Indies in a test match for the first time ever, and comfortably so.
England selected a strong squad of players for the trip to South America. Stanley Matthews was 35 years of age but was still a star and would later become the first player honoured with the Ballon d'Or. Billy Wright and Tom Finney are both legendary names in the history of the national team, while future World Cup winning manager Alf Ramsey was also included.
Wilf Mannion was a veteran of the side and a star domestically for Middlesbrough, Stan Mortensen would score a hat-trick in the 1953 FA Cup final for Blackpool, Roy Bentley had scored 44 goals for Chelsea since 1948, and John Aston and Henry Cockburn were experienced FA Cup winners with Manchester United from 1948. Newcastle's Jackie Milburn, too.
(You may also be interested 'World Cup Countdown: 18 Weeks to Go - Who Would've Won the 1942 Tournament?')
Drawn into Group 2 alongside Chile, Spain and the United States, England's tournament got off to a solid start when they beat Chile in their opening game in the newly built Maracaña in Rio de Janeiro. Mortensen and Mannion scored the decisive goals in what was incidentally England's first ever meeting with a country from outside Europe.
Then came the time to play the United States four days later in the city of Belo Horizonte. Seemingly, a non contest, the Daily Express declared it would be 'fair' to give the opposition a three-goal head start, while American coach Bill Jeffrey likened his team to animals ready for slaughter.
"Our goal was probably to keep the score respectable," American defender Walter Bahr told the BBC 60 years later. "We knew they were better prepared, coached, managed and in better condition. We were going in as complete underdogs. I don't think any of us went in there thinking we had a chance of winning."
The American players were part-timers with jobs and careers back home. Goalkeeper Frank Borghi, who would have the game of his life keeping England's seasoned pros at bay, drove a hearse for his uncle's funeral service as his day job. 
Other players were teachers, pot washers in restaurants or various other things. One individual by the name of Ben McLaughlin was even said to have pulled out of the squad because he could not get time off work to go to Brazil.
The United Sates had previously done well at the World Cup, finishing joint third in 1930 after winning group games against Paraguay and Belgium. However preparation in 1950 was difficult, and the Americans had just a single training session together before the tournament; they had also already been beaten 3-1 by Spain in their opener prior to facing England.
When the game kicked off, England struck the post twice in the first few minutes, brought two fine saves out of Borghi and had several other clear chances to score. The pattern continued, but England could not find the net, denied by their own wastefulness as well as the brilliant Borghi.
With only their second attempt of the game, the United States somehow scored in the 37th minute. Joe Gaetjens, a Haitian immigrant only drafted into the squad at the last minute but who has become a World Cup legend for his contributions that day, nodded the ball beyond Bert Williams in the England goal to give the underdog a lead that they incredibly held onto. Williams later described it as a 'fluke', not that it mattered to Gaetjens and his colleagues.
England, who were without Matthews as he was late to join the squad and was being saved for later in the tournament, were denied a clear penalty in the closing stages. Luck, it seems, was with the Americans and they could even have won 2-0 in the end but for a late goal-line clearance by Ramsey. The final whistle blew, England had lost.
What's more, upon returning to Rio de Janeiro and the Maracaña for their third and final group game against Spain, England were beaten again. England saw fit to finally bring Matthews into the line-up, but legendary Atheltic Bilbao forward Telmo Zarra, for whom La Liga's Zarra trophy is named, scored the only goal of the game shortly after half-time to put Spain through at English expense. They were out of the first World Cup at the first hurdle.
England, although better prepared, than the United States, were still under prepared for their first World Cup and the arrogance of the FA had seen them not take it seriously enough.
"We went to Rio pretty well unprepared. We had a couple of weeks together, but we were immature by the standards we had to face," England manager Walter Winterbottom, who was hamstrung in his job in Brazil by the presence of FA selector Arthur Drewry, conceded.
(You also be interested in 'World Cup Countdown: 17 Weeks to Go - 'Maracanazo': the Day Uruguay Silenced the Samba')
And even though the scale of the US defeat and early elimination might not have been clear to those back home in the immediate aftermath, that, combined with those aforementioned Hungarian humiliations a few years later, did start to change things for the England team, ultimately culminating in World Cup glory on home soil in 1966.
As for the plucky Americans, they are and will forever be World Cup legends.