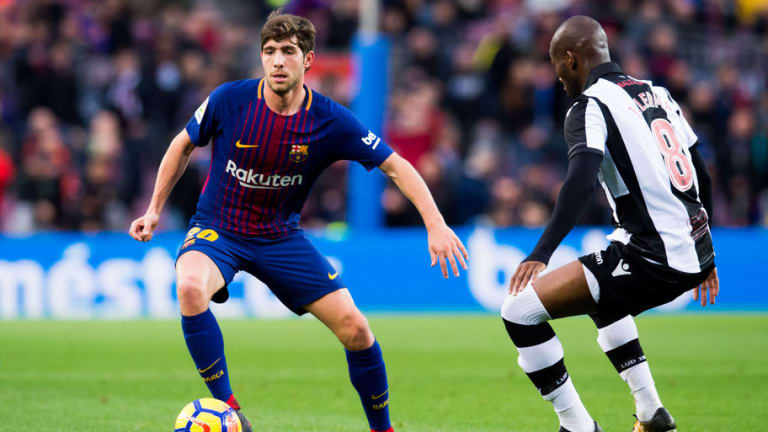 Sergi Roberto Reveals He Had Offers Elsewhere Before Signing New Barcelona Contract
Sergi Roberto has revealed he had offers from other clubs before signing his new Barcelona contract and has advised youngsters in La Masia to keep fighting if they are to follow in his footsteps.
The Spanish international started out in central midfield but had to patiently wait for his opportunity to shine with little chance of forcing Xavi, Iniesta or Busquets out the team, instead forcing him to adapt into a quality full back.
Speaking to Sport, Roberto said: "To the youngsters at the club I would say don't stop fighting, that it's not an easy path, that they focus on what they're doing here and don't look at offers. I would tell them to have patience, that their chance will arrive.
"The most difficult moments were when I was't playing, when I was on then bench or watching from home. But I have always said that I want to be on the pitch. It's true that I played a lot of games in midfield, but now I have played a lot at right-back.
"Adapting to another position has allowed me to play more minutes. I have played a lot of games there now. What I want is to help the team and to feel important and I'm grateful to Luis Enrique for giving me that opportunity."
Manchester City manager Pep Guardiola gave him his debut as a sprightly 18-year-old but he still remains just as humble: "He bet on me. I am grateful to Pep for giving me my debut at Camp Nou and showing confidence in me," he said.
The Barcelona star is now hoping to make the flight to Russia for the World Cup this summer after consistently performing well during the Catalan club's unbeaten La Liga season.
He added: "Of course, it would be a dream to go to the World Cup. It's really close now and I hope to get lucky and that the coach counts on me, because it's what every player wants. I hope Julen Lopetegui gives me the chance to be at the World Cup. At the very least, I am going to work hard for it." 
When Roberto signed his new contract on Thursday (February 22), club president Josep Maria Bartomeu expressed his gratitude that the player extended his stay at the club he calls home instead of seeking pastures new.
The president said: "This is a special event because Sergi Roberto is a special person for us - an extraordinary person and the important thing is that he will continue with the club. We are grateful that he is staying, because he reflects our values on and off the pitch. 
"He is an example for the academy. I appreciate his patience, his hard work and his perseverance, which has allowed him to become an important player for Barcelona now and in the future. We know that he had a lot of offers from everyone, but we are grateful that he's staying here with us. Barça is his home." 
Roberto will return to the pitch on Saturday as Barca host Girona hoping to extend their lead at the top of La Liga.