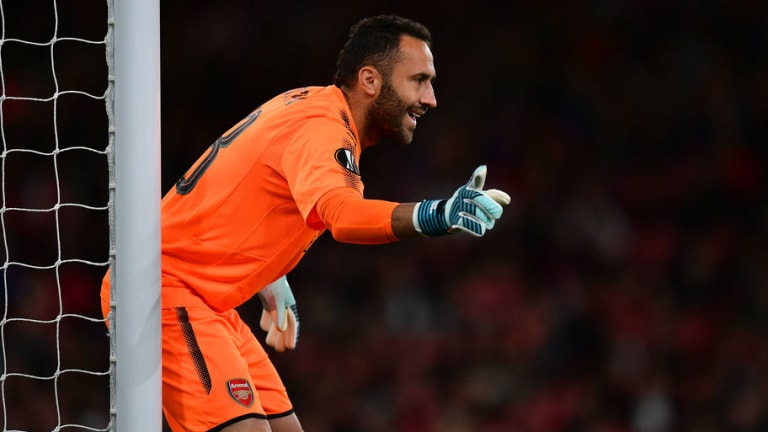 Arsenal's David Ospina Hints at Summer Departure But Remains Focused Ahead of League Cup Final
David Ospina may consider his Arsenal future in the summer if he continues to play second fiddle to Petr Cech, but remains committed to the Gunners as he prepares for Sunday's League Cup final.
The Colombian has played in four of Arsenal's five matches on the way to the final and it has been confirmed that he will start against Manchester City. He was also in goal when Arsenal beat Chelsea to win the FA Cup last May.
But Ospina has played only once in the Premier League so far this season - a brief cameo against Everton three weeks ago. Cech has remained Arsene Wenger's number one choice, despite some questionable performances this campaign.
And although Ospina outlined his commitment to Arsenal, he did not rule out the prospect of a move away in the summer.
"I am open to everything. Today I give everything for Arsenal, I like to be successful here, but you start to contemplate every alternative depending on each situation," Ospina said, quoted by  the Mirror. 
(You may also be interested in Future World Beater Alban Lafont Hints at Wanting to Join Arsenal in the Future)
"I still have a contract, but as I say, I always like to have more opportunities, to have more continuity in the squad as every goalkeeper needs."
Ospina also paid tribute to his under-fire rival Cech. The Czech goalkeeper was considered one of the Premier League's best goalkeepers at Chelsea, but his form has dipped during his time at the Emirates, culminating in an embarrassing error against Swansea last month.
"Today, I am sharing my position with an excellent goalkeeper in Petr," said Ospina. "But he knows that I like to play and I know he likes to keep playing, we have this competition between us, I just like to have continuity, I will think about the future at another moment."