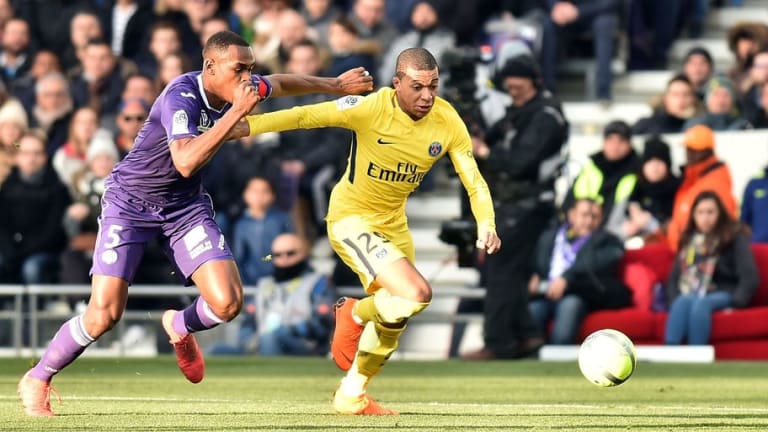 Kylian Mbappe Bites Back at Benoit Assou-Ekotto in War of Words Over African Loyalty
Kylian Mbappe has gone on the offensive in his response to scathing criticism by Benoit Assou-Ekotto as the Twitter war between the two players threatens to escalate.
Former Spurs defender Assou-Ekotto, who now plays for Metz, accused Mbappe of hypocrisy earlier this week for playing for France despite his African heritage. Mbappe was born in Paris to a Cameroonian father and an Algerian mother.
Translation: "These European players of African descent who hold Africa in their hearts and want to help the African sport blah blah blah while rushing to play for a European selection you make me laugh ... but that's good causes ..."
In response, Paris Saint-Germain striker Mbappe suggested that Assou-Ekotto has no right to preach about loyalty and national pride, including in his tweet a picture of the fight between Assou-Ekotto and Cameroon team-mate Benjamin Moukandjo at the 2014 World Cup.
Translation: "These African players who hold Africa in their hearts and want to help African sport blah-blah-blah blah while fighting with a teammate on the international scene in 2014.... You make me softly laugh... but these are your values."
The incident, in which Assou-Ekotto headbutted Moukandjo during a game against Croatia, left the Cameroon side in disgrace. They exited the 2014 World Cup with the worst record of any team at those finals.
(You may also be interested in Paris Saint-Germain Eye Mega Money Move for Real Madrid Superstar Karim Benzema)
Like Mbappe, Assou-Ekotto was born in France to African parents, but he elected to play for Cameroon instead of his home nation. Some may speculate that this choice was made more because Assou-Ekotto lacks the ability to represent France, rather than being born of national pride.
Mbappe played for France at youth level and has now made ten appearances for the senior team. His first goal came against the Netherlands in a World Cup qualifier last year.