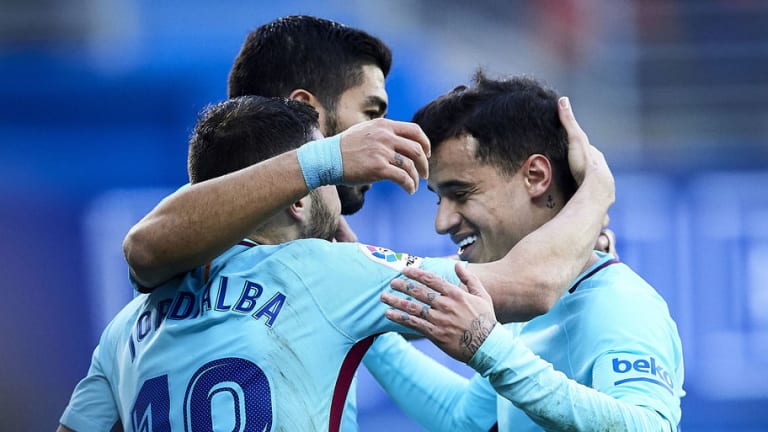 Suarez Reveals How Barcelona's Coutinho Is Different From the One He Left Behind in Liverpool
Luis Suarez has revealed the Philippe Coutinho who arrived at Barcelona in January is a completely different person and player from the one he left at Liverpool in 2014. 
Coutinho secured his long awaited move to Camp Nou in January following a tense tussle between the Premier League side and the La Liga leaders, where the Brazilian reunited with the Uruguayan striker who had even helped find him a house prior to his arrival in Catalan. 
The star duo were instrumental in Liverpool's scintillating season in 2013/14 and having struck up a friendship off the field Suarez has revealed what he told Reds skipper Steven Gerrard prior to packing his bags for Spain. 
"When the opportunity came up for me to come to Barcelona, I told Gerrard to look after [Coutinho] when I left," Suarez told Barcelona's official magazine, via the Mirror.
"But then he moved to the Galaxy, so Philippe had to take responsibility himself and he put the team on his back.
"It didn't surprise me to see him emerge as a player because I knew the quality he had, but I admire the responsibility he took on at such a young age."
Coutinho has made seven appearances and scored one goal for Barcelona since making his £142m move, and whilst the 25-year-old is still adjusting to his new club the former Liverpool striker is adamant that Coutinho's experience in a role of responsibility will only see his talent shine brighter in the near future. 
Suarez added: "When he's on the pitch, he transforms. It may not seem like it, but Philippe is very shy and quiet. He needs to be more confident.
"That said, I've noticed a change between the kid that arrived at Liverpool and the player he's become now. He's still shy, but you can see how much he's matured.
"I am convinced he's going to give us a lot at Barca, as a player and a person. He has a quality which sets him apart [from others]. You could see that on his debut."