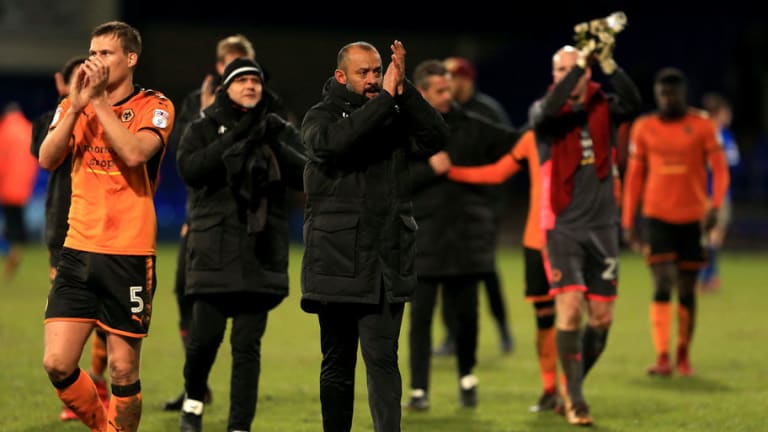 Can Wolves Be Caught on Their Premier Pursuit? Previewing the Remainder of the Championship Season
As we entered the month of February, for all intents and purposes a similar picture was occurring at the top ends of both of England's top two domestic leagues. 
In the Premier League, Manchester City were living up to the pre-season hype and had opened up a seemingly insurmountable 13-point lead on their 2nd place Manchester rivals; whereas in the Championship, Wolves were enjoying a similarly large gap of their own against the teams jockeying for the remaining automatic promotional place. 
However, as February draws to a close, one of these teams is no longer enjoying the security of such a cushion. Judging by the title of this article, you can probably guess which one.
Over the course of the month, Wolves' lead has been slashed to a mere six points following a decisive loss to promotion-chasing Fulham and draws against both Norwich and Preston. Taken on their own, these results do not seem disastrous, however when compared to Cardiff, as of writing the team sat in 2nd, this form has not been good enough. 
Cardiff have enjoyed a near-perfect month and their consistent form has been rewarded by a real shot to challenge for first place of what many neutrals call the most competitive league in the world. Another team that is still very much in the running for automatic promotion is Aston Villa. 
Thanks to the extensive goal count of Albert Adomah, the prolific assist count of loanee Robert Snodgrass and the defensive experience of former England captain John Terry, Aston Villa have been lifted from their disappointing placement of 13th last season and have since displayed a team that would not look out of place in the top flight. 
Filling out the remaining playoff places are Derby (who seem to be going through their traditional second-half-of-the-season slump), Fulham (undefeated in the league since mid-December) and Bristol City; whose cup heroics have apparently blunted their own push for top level football.
So what can change between now and May? Well, judging by the fixtures that remain to be played, coupled with the recent form of the above teams, a lot. The leaders still have to face four of the five teams currently sat in the playoffs, including matches at the Cardiff City Stadium, Villa Park and Middlesbrough's Riverside Stadium. 
It is therefore not hard to imagine that if one or more of these results go against Wolves, that the race to the Premier League would be well and truly up and running. The quick-fire nature of the fixture list means that now, more than ever, managers must not only be able to field a strong starting XI, but also to grow and nurture a squad that can compete in up to five matches per fortnight. 
Therefore, it is not hard to imagine that if players such as Ruben Neves and Preston's Darnell Fisher begin to start missing big matches due to, in both of the above cases, suspensions or injuries, that the squads at the top of the league have to become consistent amongst constant change. As most managers and professional players will tell you, this is near impossible, especially at this level.
It is not just Wolves that have a challenging array of fixtures remaining this season. Cardiff, arguably have it even worse with their matches against the leaders and Aston Villa coming back to back, albeit with the home advantage in the first. 
Neil Warnock recently reiterated his target for this season was the playoffs and with further matches against Derby and Sheffield United he will be hoping that his own expectations can be surpassed. 
Fulham, meanwhile, have the easiest route to May on paper. Having beaten Wolves and Aston Villa already in February and Cardiff in 2017, Fulham have only Derby of the top seven left to play and that in early March. 
With a run of matches against teams in the bottom half of the division, Fulham will have to make sure they do not get complacent as the season draws to a close whilst also positioning themselves as challengers in the case of any of the teams above them slipping up. The recent form of Wolves combined with the aforementioned late-season slip ups of Derby and the packed fixture lists of all teams certainly means that this is possible.
So to answer the titular question "Can Wolves be caught?"; yes almost certainly. Will Wolves be caught is, however, a completely different proposition. Cardiff have the best chance to do so, a win in the Welsh capital would cut the prospective lead to just three points and they are in the form to do it. 
You also cannot count out Aston Villa, Derby or a resurgent Fulham to lead a late charge for a automatic promotion spot. Whatever happens, one thing can be assured; this fight will go down to the slimmest of margins.