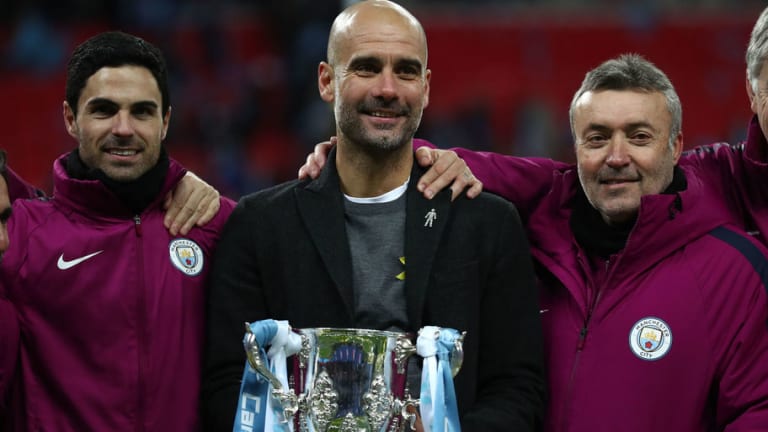 Guardiola Delighted With 'Important' Trophy Win After Man City Thrash Arsenal in Carabao Cup Final
Manchester City manager Pep Guardiola dedicated his side's Carabao Cup victory to everybody connected with the club after the Blues eased past Arsenal in a comfortable 3-0 win on Sunday evening.
It it the Catalan's first taste of silverware with City, but speaking at his post-match press conference as reported by mancity.com, Guardiola was keen to not make the trophy all about him. 
"It is important to win this trophy because our supporters are so happy," he said.
"I'm happy for our fans, for my staff, for the players and for Sheikh Mansour and our Chairman Khaldoon Al-Mubarak."
City took a while to get going, and were not at their best in the first half despite going in at the break 1-0 up, but Guardiola praise their improvement in the second half.
"The first half was not good – too many mistakes with simple passes – but the second half we played with more courage, more personality. That is why we were outstanding after the break." he said.
"It was so important we won this after going out of the FA Cup. It's a pity because we played 45 minutes against Wigan with 10 against 11 and we played good, but unfortunately couldn't go through."
Finally, the 47-year-old insisted that his side now had to put this win behind them and focus on trying to complete a treble.
He said: "Now we have to focus absolutely on the Premier League and trying to win the games we need to win the title and try and progress to the Champions League quarter-final."
"This win is not for me, it's for Manchester City."