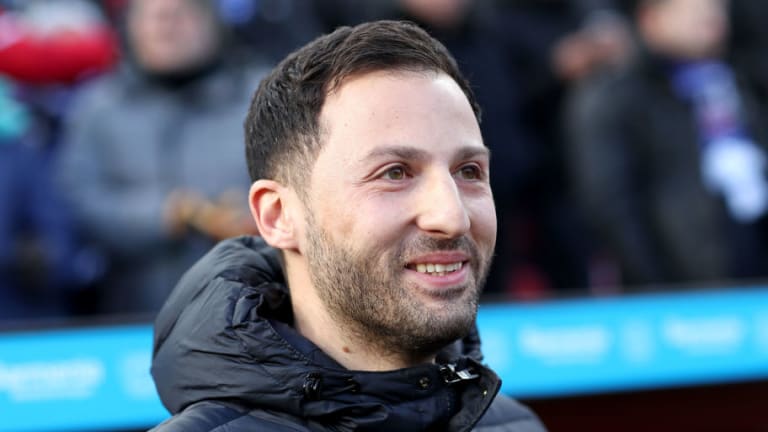 Schalke Boss Tedesco Praises Burgstaller's 'Beautiful Goal' After Crucial Win Over Leverkusen
Schalke manager Domenico Tedesco has praised his striker Guido Burgstaller's goal after his side cruised to a vital 2-0 victory over Bayer Leverkusen in the Bundesliga.
Burgstaller gave Schalke the lead early in the first half, after deftly chipping the ball over an opponents head before driving into the box and slamming home a low drive. After Leverkusen midfielder Dominik Kohr was sent off midway through the second half, Schalke put the game to bed late on, with Nabil Bentaleb converting a penalty.
Expressing his happiness with his team's performance, Tedesco said:
"In the first half, we played maturely and convincingly. The lads did very well. We lost the ball very rarely. Additionally, we were productive in the final third.
"As soon as we won the ball, we looked dangerous with it. Guido's (Burgstaller) goal was exceptional. It was a beautiful goal and a crucial one too. It'll do him the world of good as he hadn't scored for a while. We know Guido's game isn't just goals but it's always good for a striker to score."
"In the second half, Leverkusen were very good considering they were down to 10 men. They were bold and played more and more riskily as the game went on which we capitalised on at the end. Once, Breel's (Embolo) effort was saved by Leno but the second time we won a penalty which ended any doubt in the game.
"Sure, our fans can dream about the Champions League but we won't be – otherwise we'll lose our focus."
Schalke's important win sees them move up to third in the league table, as the race for Champions League qualification continues. With the six clubs below comfortable leaders Bayern Munich separated by just six points, the battle for European qualification looks set to go down to the wire. Leverkusen's loss will hurt their bid considerably, as they slipped to fifth.