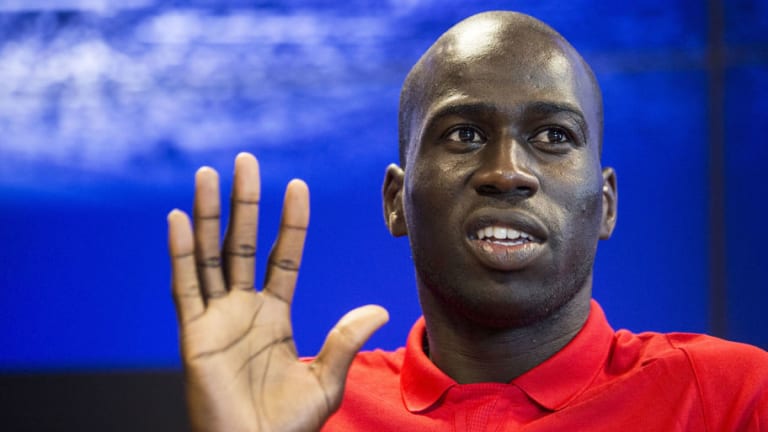 Stoke Legend Mamady Sidibe Can't Imagine Returning to France After Lengthy Spell in the UK
Stoke City legend Mamady Sidibe insists he can't see himself returning to the country of his birth after spending time playing in England.
The Frenchman, a former striker who hung up the boots back in 2015, now works as an ambassador and a scout for the club. He also helps his wife Bineta with the operations of French patisserie Cafe Melice.
"When I came to the UK, I didn't speak English, the food wasn't great, the houses were all made of bricks and I wasn't used to that, the weather it was crazy – so I thought no chance I would stay here," Sidibe told the  Stoke Sentinel in an exclusive interview..
"But now, I can't see myself going back to France and especially with the kids, the kids they're born here, so when we go back to France it's like a holiday for them.
"If you told me that in my first year in England that I would stay here, I would think you're crazy. But now – I feel as though I'm home."
Sidibe is also keeping busy writing his autobiography "The Luckiest Man in Football." 
And having started out playing as a defender, he explained his decision to switch positions was simply to have a bit more fun. The real inspiration as it relates to playing in a top league, though, came in the form of Diomansy Kamara, his teammate at French club Red Star, leaving for Italian club Catanzaro.
"When I was 18 and playing football in non-league, you think football is over but with Kamara going to Italy – it was a massive boost for me.
(You may also be interested in:  A Number Nine Bites the Dust: 9 English Strikers Who Failed to Live Up to Their Early Potential)
"I had a good season when I was 21. My teammate became my agent although, at the time we were playing, I didn't even know he was an agent.
"He asked me if I wanted to go on trial at Swansea City, of course I accepted."I had a strange path. Before Swansea I thought my football career was over. I was just playing for fun and that's the only reason I changed position."
Sidibe spent eight years playing for the Potters, helping them win promotion to England's top flight in 2008 before scoring the winner in their first game back in the division. He does not boast a handsome scoring record, with just 26 goals coming from his 186 appearances for the club.
Yet the former forward has earned the respect of all Stoke fans, who revere him as an absolute hero and one of their club's shining lights of the modern era.