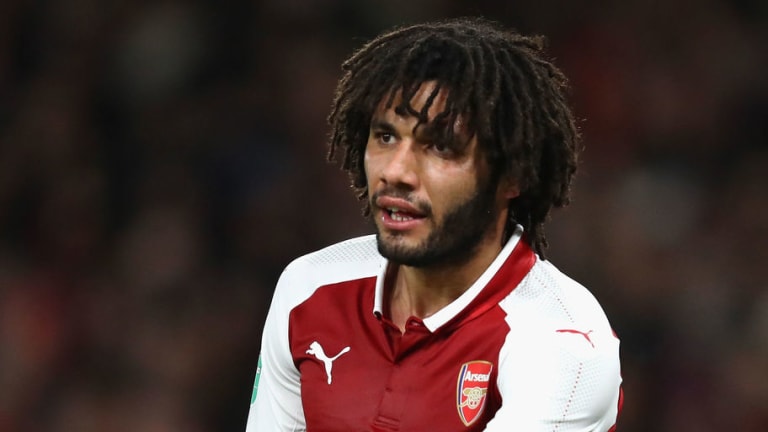 Arsenal Midfielder Mohamed Elneny Makes Promise to Young Fan After Carabao Cup Final Defeat
Arsenal midfielder Mohamed Elneny has sent a touching message to a young Arsenal fan after Sunday's heavy Carabao Cup final defeat against Manchester City.
The Gunners were beaten 3-0 and have received widespread criticism for their lacklustre performance at Wembley.
One young supporter was caught on camera in tears during the game, and Elneny was quick to promise an improvement.
"Listen, your tears are so precious for all of us," the Egyptian midfielder wrote on Twitter. "For the sake of you and the sake of all the gunners' fans I promise you to fight to draw the smile on your face."
His words, while commendable, will likely be small consolation for many Arsenal fans. Most had left Wembley before the final whistle after goals from Sergio Aguero, Vincent Kompany and David Silva secured a comfortable win for City.
The loss has led to further speculation over the future of Arsenal Wenger, while a number of Arsenal's players were condemned by Gary Neville as "spineless".
Former Gunners striker Ian Wright was also scathing, calling on the club to make significant changes.
"There are excuses [from Wenger] and he is mollycoddling a team," Wright told BBC Radio 5 live.
"Whether he stays at the end of this season, I could not make a case. I am not sure anyone can. This development of mediocrity has to be arrested.
"How long would it take Arsenal to get back? It will take them a few years. Everyone is progressing and moving forward in that top five. Arsenal are going the other way. They need to stop it, get a successful manager then get players to go forward. It is a long road."