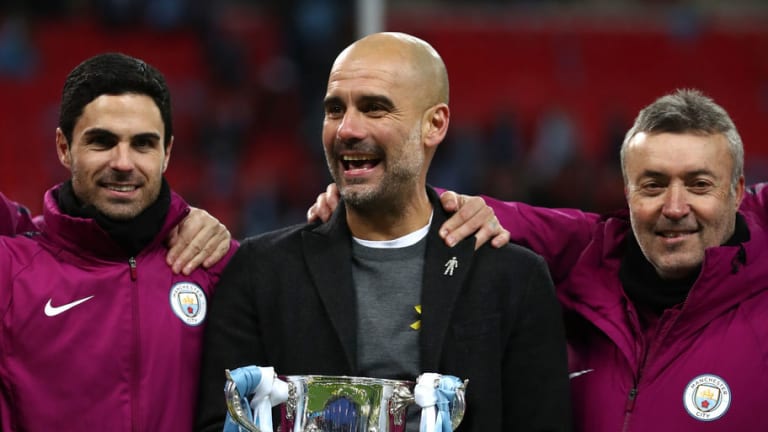 Carabao Cup Final Scorer Vincent Kompany Likens Pep Guardiola Reign to Being at University
Manchester City captain Vincent Kompany reckons playing under and learning off Pep Guardiola is like being at university, branding the Spaniard's methods 'intense' and 'relentless'.
The former Barcelona and Bayern Munich coach is famed for his meticulous attention to detail, and has a reputation for being extremely thorough with his players as he tries to inspire success.
His style paid off at the weekend as City scooped their first major trophy of the season in the Carabao Cup by beating Arsenal 3-0 at Wembley, and Kompany has shed some more light on his manager's ways.
Appearing on talkSPORT, the Belgian leader, who scored the game's second goal, said: "I think the best way he [Guardiola] has ever been described is he is intense and relentless. You never feel satisfaction and I'm sure even today we'll be back at it and focussing on the next game.
"Whether it's Wigan, whether it's Arsenal, it doesn't really matter in the way we prepare for games. What he gives us is that incredible amount of knowledge he shares, and he is really good at delivering his message as well.
"We always feel we have an advantage over other teams just because he's been very precise with the information and what he wants us to do.
"Working with him is like doing ten years of studying, I compare it with going to university, that's the level. We never stop learning every single day."
Guardiola's methods have yielded him his first piece of silverware as Citizens boss, and it's highly likely they will secure this season's Premier League title too, as they fly high at the top of the table 13 points clear of Manchester United.