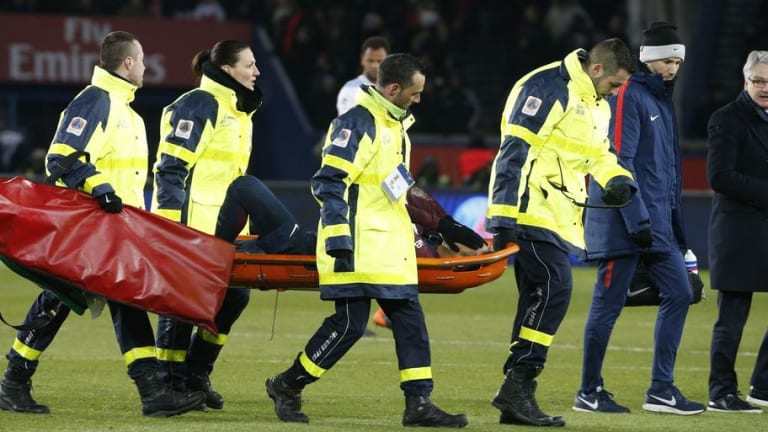 Neymar Set to Miss Real Madrid Champions League Tie After Suffering Fractured Metatarsal
Neymar is set to miss the second-leg of Paris Saint-Germain's Champions League last-16 clash with Real Madrid after it was confirmed by the club that he has suffered a fractured metatarsal and a sprained ankle.
The Brazilian forward sustained the injury during Saturday's 3-0 Ligue 1 win over Marseille and had to be stretchered off.
A statement on the club's website revealed that he had suffered "a sprain of the right ankle and fissure of the fifth metatarsal".
It was not revealed how long he is expected to miss, but he is now almost certain to be out of next week's return leg against Real Madrid in Paris.
Neymar, who joined PSG for a world record £200m from Barcelona last summer, has scored 29 goals in 30 games this season.
He was the man to whom Unai Emery would likely have turned in hope of overturning the 3-1 deficit against Real Madrid, but now the Parisians will be reliant upon Kylian Mbappe and Edinson Cavani.
(You may also be interested in 'It's War': PSG Ultras Send Warning to Real Madrid Ahead of Second Leg Champions League Clash)
Los Blancos boss Zinedine Zidane had earlier claimed that he was not happy about Neymar's injury, regardless of the fact it may prove a boost to his side.
"I do not like seeing players injured," he told AS. "I'm not happy with Neymar's injury. I hope he can be in the second leg. I never want a player to be injured."
Neymar may be joined on the sidelines by defender Marquinhos who, according to well-known Twitter account, Paris United, also picked up a knock against Marseille.
The Brazilian played the full 90 minutes but complained after of calf and thigh problems.