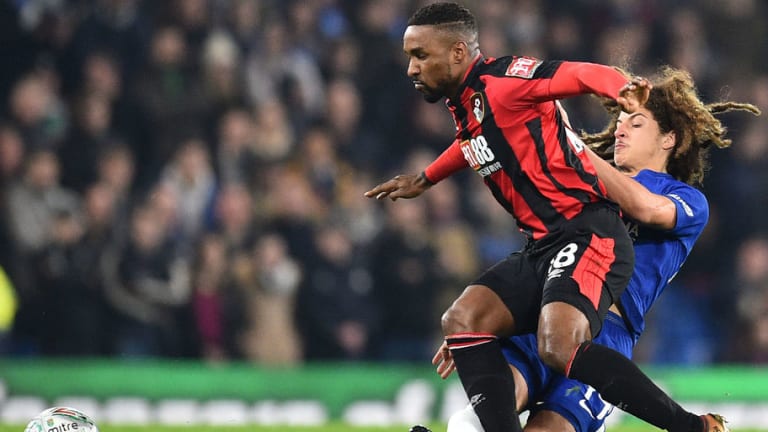 Jermain Defoe Eyeing an Ambitious Place on the England Plane to World Cup in Russia
Bournemouth striker Jermain Defoe has said that 'the door is open' for him to earn another England call-up.
The 35-year-old unsurprisingly confirmed that, if he does go to Russia, it will be his last World Cup. However, he still believes his experience could play a vital role in Gareth Southgate's squad this summer.
Speaking at the North East Football Writers' Association awards, Defoe told the Sun: "I want to get back in the Bournemouth team and I believe that if I get my chance, I'm going to score goals. If you are scoring goals, then it's down to the England manager.
"I'm still relaxed about it. I spoke to Gareth before the injury and he basically said, 'The door is always open because you bring so much with your experience, you bring a lot to the camp'.
"He said, 'Get yourself back in the team, get your goals and you know the door is open'. So it's down to me really. Well, it's down to Eddie Howe as well!"
Defoe confirmed that this would be his final World Cup, and shows that he is desperate to be on the plane this summer as he recalls the buzz he got from his first World Cup with the Three Lions.
"Realistically, if I do end up going, it will be my last one," Defoe said.
"I remember the feeling I got from going to my first one – playing and just being around the hotel with the lads, just knowing that I'm at a World Cup.
"It was something I'd worked so hard to achieve and knowing the buzz I got from it, if I can go to this one, it will be special, especially with this group of players, the young lads."
The Bournemouth striker, who has been on the sidelines since fracturing his ankle against Chelsea in December, knows the role he would have in Gareth Southgate's squad if he were to be selected.
"If I went to the World Cup as an impact player, when we need a goal in extra-time, I'd always be ready.
"At a tournament, it's always about the squad. When you are not playing, you've always got to be switched on.
"You've seen it in tournament so many times where players that have not even played come on and make an impact and make a difference in games. Especially at a tournament when you go into extra-time and penalties and stuff like that.
"I went to the World Cup in South Africa and I played. I went to the Euros with Roy Hodgson in 2012 and I only came on for 13 minutes. But it's important that you are not negative around the camp because, at the end of the day, it's not about you, it's about the team and it's about achieving something as a group.
"If you don't play and you win the World Cup, it's special because you are part of that. It's history."