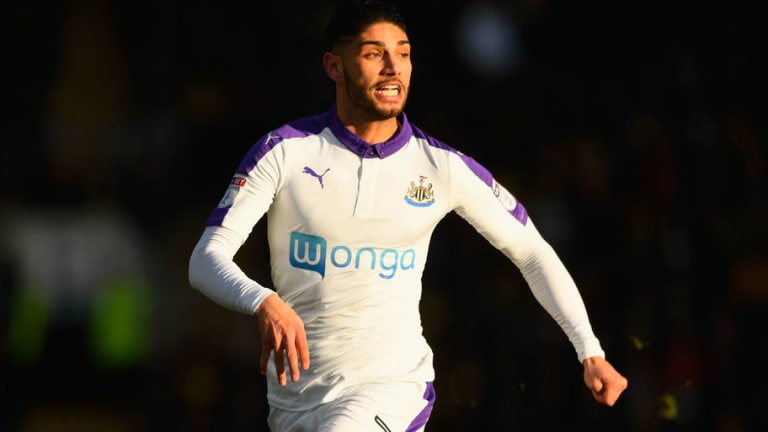 Newcastle Boss Rafa Benitez Failed in Attempt to Rescue Winger From Loan Nightmare
Newcastle United manager Rafael Benitez has failed to rescue Newcastle winger Achraf Lazaar from his nightmare loan in Italy.
The 26-year-old is on loan at Serie A strugglers Benevento, but they have controversially omitted him from their squad for the second half of the season. Lazaar's dreams of playing for Morocco at the World Cup in Russia this summer are now in jeopardy.
Bacary Sagna signed for Benevento in earlier this month, which meant that he took the final place in their squad, at the expense of Lazaar.
Having already played for Newcastle and Benevento this season, FIFA rules state that Lazaar is not allowed to play for another club until the start of the 2018/19 season.
Benevento have the chance to sign Lazaar on a permanent deal for £3m this summer, but having excluded him from their squad for the remainder of this campaign, it looks likely that they will turn down that opportunity.
Lazaar can still train with Benevento, but it leaves the Moroccan winger in limbo in terms of playing matches.
Talking to the Chronicle, Benitez said: "I feel for him. When you go away and you think everything is fine it is hard.
"He was injured for some time and that went against him. We can't change anything now. We are aware of him but we can't do anything."
Benitez said: "I was talking with his agent the other day. We know about his situation but we can't find a solution.
"They signed Bacary Sagna and they needed one position changed. Sagna is a player with experienced and they decided on him not being in the squad.
"It's something that we can't control. We have signed Kenedy so we couldn't bring him back."