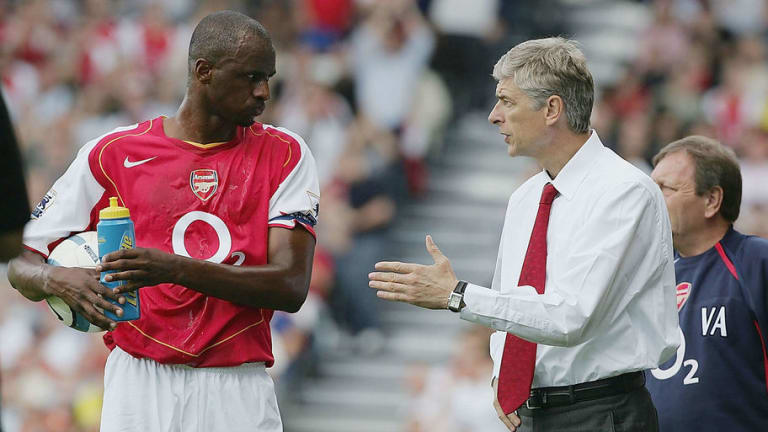 Gunners Legend Patrick Vieira Throws Hat Into the Ring to Become Arsenal Manager 'One Day'
Former Arsenal captain Patrick Vieira has revealed that he may be interested in taking the job of Gunners manager at some point in the future - but backed current manager Arsene Wenger to decide when his time at the club is up.
Scrutiny over Wenger's future has heightened in recent weeks, with Arsenal losing the League Cup final and struggling in the Premier League.
But Vieira said that the Frenchman's previous successes have bought him the right to decide when his time at the Emirates Stadium is over.
"I think if it's the end of the story, he'll be the first to recognise it," Vieira told L'Equipe. "And I would still like to add that in relation to everything he has done for the club, in relation to what he has built and what he has won, he is legitimate enough to decide for himself when he will retire.
"He has the right to make this decision himself."
Vieira was a key member of the Arsenal team which went unbeaten through the 2003-04 Premier League season under Wenger's stewardship. And he was keen to remind Arsenal fans of the loyalty that Wenger had shown to the club.
"If there really is someone who loves this club and wants this club to succeed, it's Arsene," he added.
"I find that the criticisms that fall on Arsene on a personal level are difficult to accept. I remember very well every time he refused the biggest clubs to stay at Arsenal."
Asked whether he would consider taking the top job at Arsenal once Wenger calls it a day, Vieira admitted that the idea would be attractive.
"Let's say that someday it might interest me. But one day," he said. "I cannot say anything more because there is nothing to say about it and I do not want to offend Arsene, whom I adore and for whom I have a lot of respect."
Vieira is the latest ex-Arsenal star to admit to an interest in following in Wenger's footsteps in leading the Gunners. Vieira's former teammate Thierry Henry also claimed he would never turn down the challenge of taking over at Arsenal, if offered the chance.