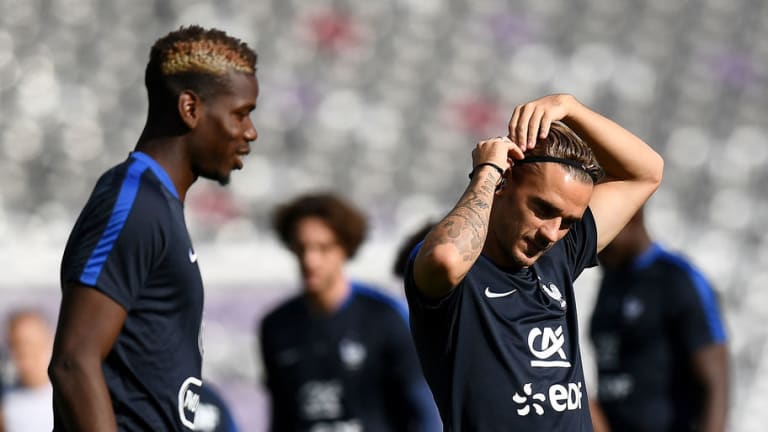 Griezmann: It'd Be 'Beautiful' to Play With Pogba Every Day – Not Necessarily at Man United
Antoine Griezmann could certainly warm to the idea of playing on the same club as Paul Pogba.
Antoine Griezmann has admitted that he would love to play alongside international teammate Paul Pogba 'every day' - but insisted that doesn't mean he wants to move to Manchester United. 
The Atletico Madrid star was speaking to Pogba on Canal+ during the current international break, with the United star saying: "If we could have this every day..."
Griezmann replied: "That would be beautiful to play alongside you and win trophies. But be careful! That doesn't mean I want to go to Manchester United."
The France star admitted that he was more likely than not to join United last summer, but a move didn't materialize as he signed a new deal in Madrid - albeit one with a €100m release clause. 
He said when talking last summer: "Today, if I have to move, it will not be a problem for me. It may be England, which is in fashion, Germany, China or the United States, I'm ready to go. We finished third in La Liga, it was the objective of the club, but we, the players, want more. Winning titles is what I will look for this summer when deciding on my future."
Those quotes look more relevant now than ever, with the 27-year-old looking likely to move to Barcelona this summer after helping Atletico settle into their new home at the Wanda Metropolitano. 
Diego Simeone's men looked for a time like putting together a title challenge, but defeat to Barca at the Camp Nou at the start of the month put paid to those hopes, leaving the Catalan side with a comfortable cushion at the top of the table and able to focus their efforts on wresting the Champions League from Real Madrid.