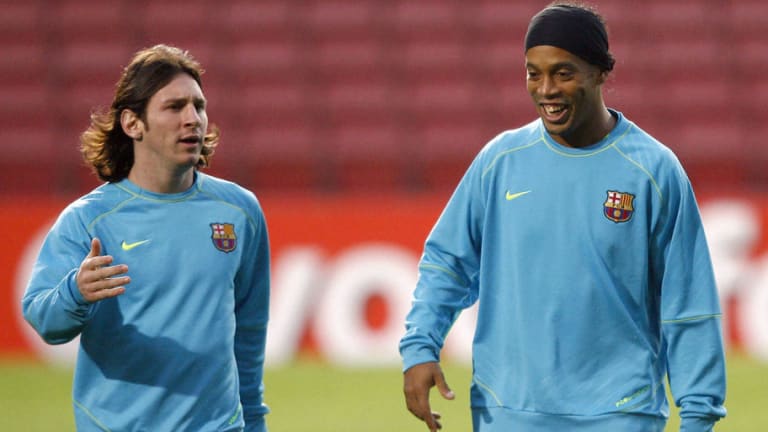 Barcelona Legend Ronaldinho Rejects Claims That He Was a 'Bad Influence' on Lionel Messi
Former Barcelona and Brazil star Ronaldinho has claimed that his decision to leave Catalonia in 2008 had nothing to do with rumours about his influence on a certain fresh-faced La Masia graduate, Lionel Messi.
The South American legend, who officially retired from professional footballin January, asserted that he always had a good relationship with Barca's Argentine superstar and even claimed that he "knew [Messi] was a better player" than him early on in his career.
Ronaldinho spent five years at the Camp Nou in between spells at Paris Saint-Germain and AC Milan, defining what Spanish football was all about for a generation of La Liga fans.
"It was easy - it was time to go," Ronaldinho told FourFourTwoabout his Blaugrana exit. "I wanted to follow in the footsteps of [Frank] Rijkaard, 
who was my coach and said great things about Milan. I had other options, but I wanted to play for Milan."
Ronaldinho also spoke in depth about his influence on Messi. Reports at the time of his exit suggested the Brazilian's move to Milan was forced through because of their relationship.
However, the two time Ballon d'Or winner insisted that he had a fantastic relationship with Messi, even trying to adopt a similar mentoring role that fellow Brazil legend Ronaldo had upon his arrival at the Camp Nou in 2003.
"As for that stuff about Messi, it's not true; you shouldn't always believe what you read. I always tried to be a good influence on him and actually try to do for him what Ronaldo did for me. I felt embraced by Ronaldo and I wanted Leo to have the same. 
"Messi was always very shy, but always a fantastic player. We lived on the same street, so I had a great relationship with him and his family. Even then I knew he was a better player than me."