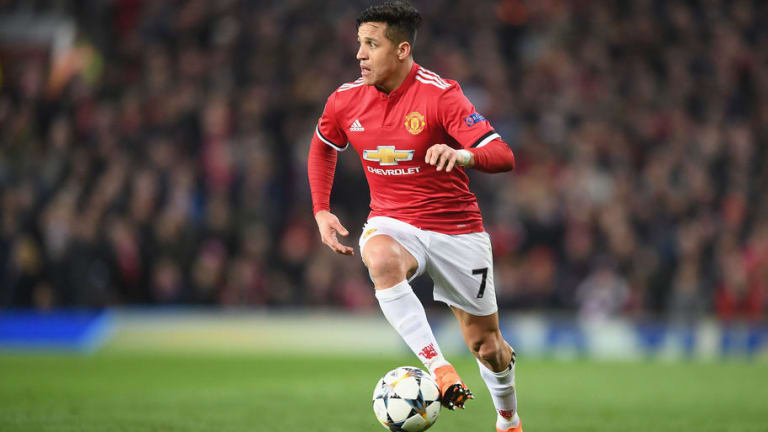 REVEALED: The Reason Why Alexis Sanchez Eats Alone at Manchester United's Training Ground
After a now infamous report caught public attention by claiming January signing Alexis Sanchez has been seen eating alone at Manchester United's training ground, a new source has come up with a more positive reason for the Chilean's eating habits.
According to the Daily Star, Sanchez has been eating alone at United's Carrington training ground because he is often last off the training pitch, with the star choosing to do an extra 30 minutes of work compared to his teammates.
The Daily Mail previously claimed that Sanchez has struggled to settle in at Old Trafford since his move from Arsenal in January, and that staff "have been surprised by his miserable demeanour at the club's Carrington training ground where he cuts an unhappy, isolated figure and often eats alone in the canteen." 
However, a source at United has since defended Sanchez's actions, explaining: "He regularly does an extra 30 minutes working on free-kicks and shooting after the main session has finished up. By the time he has showered and changed, the majority of his team-mates have finished eating and gone."
The former Arsenal player has admitted to struggling for form since his arrival in January, saying: "Seeing as I demand a lot of myself, I expected something better.
"After my arrival at United, it was hard to change everything very quickly. "I even hesitated to come here [Sweden] I had asked permission to miss these games and stay in England, but then I thought better and spoke with Claudio [Bravo] and told him that we should all be united.
"The change of club was something that was very abrupt - it was the first time I've changed clubs in January - but many things have happened in my life that are difficult."
Sanchez had made six Premier League starts for Mourinho's side since January but has scored just one goal and is yet to provide an assist for the Red Devils. 
The 29-year-old was also dropped for United's 2-0 FA Cup victory over Brighton - having started in every other game for the club since his arrival from Arsenal.