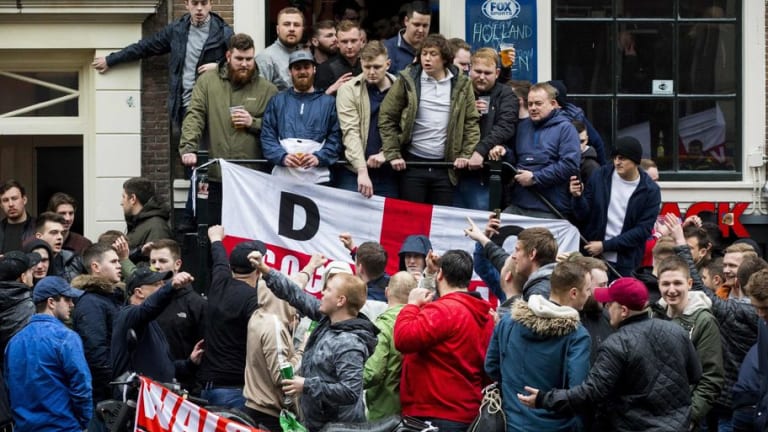 FanView: Why England Fan Trouble Is Not on the Rise Again Despite Latest Incidents
'Fans disgrace country' was one of several headlines those from around the world woke up to following England's visit to Amsterdam on Friday - the general consensus being that the embarrassing scenes are no abnormality. 
If a straw poll were to be cast asking the general public to assign an adjective to the England football team's travelling support, I would wager it would declare that those who dedicate their time and money in following the Three Lions across the globe are, as police chiefs stated, 'appalling'. 
A reputation is something that is difficult to free yourself from. The 1970s, 1980s and 1990s saw hooliganism in the English game soar when travelling abroad, leaving a lasting stain on the English standing. 
Return of the Bad Years?
In the worst of the bad years, 1981 saw a pre-match in-stadium standoff in Switzerland. A year later, Spanish police attempted to tackle travelling supporters with batons on the streets of Bilbao and Madrid. Cagliari, during Italia 1990, played host to clashes between those from England's shores and the Netherlands. In 1995, parts of Ireland's Lansdowne Road were dismantled by the away section, forcing the contest to be abandoned after just 28 minutes. France '98 saw tear gas, foreign objects and violence litter the streets of Marseille as Tunisian followers and those who had made the short trip across the English Channel crossed paths. 
However, since the late 90s and those years of disruption, Three Lions fans had taken significant strides. Although the stigma was still attached to the large numbers following their country, the statistics did not reinforce the theories. A handful of disturbances recorded in nearly two decades hinted that the 'hooliganism' that shadowed over the national team had been all but snuffed out. 
But then came the European Championships two years ago. 
Once again it was France's southern point of Marseille that descended into anarchy as England faced Russia in their opening group game of the tournament. Harrowing images of shattered glass, upturned bar furniture and drunk, shirtless aggressors filled the eye following an afternoon and evening of violence which spanned along the entirety of the city's port and transfused itself into the inner workings as the day wore on. 
A large number of supporters with red-stained faces caused by the eruptions of tear gas hunted for cover as tensions continued to rise. It was not a pretty sight.
Those 24 hours of overspilling discordance, however, seemed a significant moment in modern footballing history. Russian fans, indirectly representing a state which would host the world's celebration of the sport two years following, facing off with those from England in one of the fiercest ructions for nearly 20 years.
Violent supporters from several nations consistently marred the remainder of the tournament, with those there in the name of the Three Lions involved again in Lille when facing Wales. Although, maybe surprisingly, it was not the English and the Welsh which crossed paths, but a combination of the two joining forces against the Olympique Lyonnais 'ultras' who were attempting to flex their muscles to the world. 
Pockets of Trouble
That summer, in fact, was surrounded by pockets of disturbances. Berlin, 2016, England and Germany supporters clashed outside of the Olympiastadion ahead of their friendly. In Dortmund, 12 months later, distasteful chants were heard echoing from the away section. And, of course, last week, 102 arrests were made by Dutch police across three days as a large number of travelling fans commandeered the famous Red Light District.  
So, with all the evidence shown it leaves one overriding question - are we now seeing a return to those dark times of the last millennium? 
Simply, no. 
An estimated 10,000 supporters descended on Amsterdam with international duty in mind, (meaning just over 1% were arrested), and bearing in mind only around 5,500 tickets were sanctioned by the Football Association, it leaves 4,500 'fans' unaccounted for. 
As is often the case during the Three Lions' travels, a selection of those who were not awarded a ticket during the FA's ballot based themselves (unwisely, in some instances) in the home end after sourcing their entrance elsewhere. However, the overwhelming majority were respectful. 
This, of course, however, does not account for all those who travelled without a ticket.
Regular vs Irregular Fans
A general misconception when discussing the 'troublemaking' England fans is to believe it is those who have followed the country for a prolonged period of time who are the instigators, or even that all who travel indeed indulge in acts of mindless violence or disturbance.  
However, as Football Supporters' Federation chief executive Kevin Miles claimed: "It is not in the interests of the regular England followers for the anti-social behaviour to creep back in as it will inevitably impact on how we are received and treated by host police forces elsewhere." 
When pouring over the videos and images which showcase the headline-worthy actions taken by some, a clear trend is visible - large groups of males, aged around 18-25. 
However, speak to those individuals, and you will discover the majority are following their country for the first time. While this certainly does not excuse or condone their actions, their belief in the aforementioned hard-to-shake stereotypes may go some way as an explanation as to why they come to expect and indeed seek trouble when they 'go away' for the first time. 
As a regular England fan on away days, it is not difficult to judge when the events that mar the national image so badly will take place. 
For example, a Friday night match in Amsterdam with countless tickets sold to newly registered Travel Club members as well as several others declaring their interest without a gate receipt preludes only one thing; disaster. 
Looking Ahead
As a grim prediction, there will be violence in Russia this summer. However, it will not necessarily be on the scale that is expected. England face off against Tunisia and Panama in Volgograd and Nizhny Novgorod respectively. While this will undoubtedly house minor disturbances between those travelling and the native Russians, Kaliningrad (the venue for the Three Lions vs Belgium) will be a hotbed. 
A correlation between the number of England 'irregulars' in attendance and the amount of animosity that surrounds specific fixtures is not difficult to calculate. There is a sharp increase in interest for the clash with the Red Devils compared to the two prior, as there was in Amsterdam, Dortmund in March of last year, and Berlin and Marseille in 2016. 
This piece, however, should not be depicted as claiming all troublemakers are new to following the Three Lions, as they are not. Nor are all those who are seasoned travellers guilt free. However, the scale, and indeed, actions of today compared to those of yesteryear are minute, albeit still highly embarrassing for those who do not attend away fixtures with disruptive purposes in mind. 
And despite the apparent "worrying trend" claimed by deputy chief constable Mark Roberts, as a 'regular' who will be heading to Russia this summer, I can state that the actions taken by a tiny minority which "disgrace" the country are not an accurate reflection of the majority. They, indeed, go no way in showcasing the thousands who travel abroad to support their country, to witness as well as enjoy new surroundings and who have a genuine love for their nation's football team. 
Simply put, hooliganism is not returning, as the overwhelming majority do not want it to.