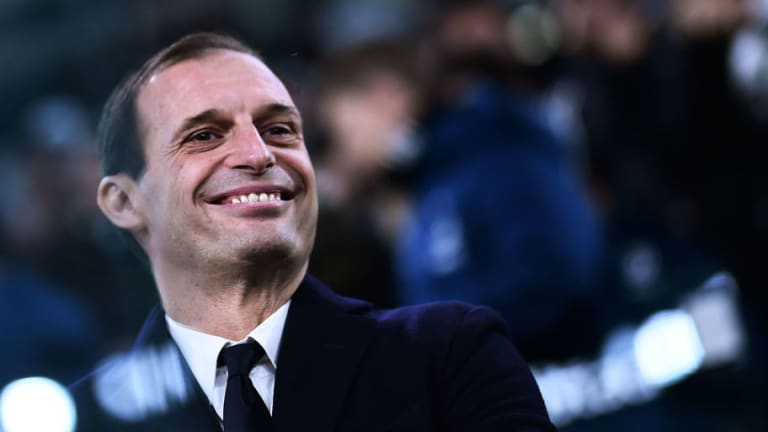 Massimiliano Allegri Insists He Is 'Happy' at Juventus Despite Links With Chelsea & PSG
Massimiliano Allegri has claimed that he is happy at Juventus despite speculation linking him with Chelsea and Paris Saint-Germain.
The Italian has established himself as one of the most sought-after coaches in Europe having led the Bianconeri to three successive Serie A titles and two Champions League finals.
Both Chelsea and PSG are expected to be searching for new managers come the summer, and are believed to be targeting Allegri.
However, he has looked to distance himself from the speculation as Juventus continue their challenge for domestic and European silverware.
"Everything is tied to results," Allegri told Premium Sport. "If you win you're good, if you lose you're less good. I have a contract until 2020 and I'm happy here."
Allegri was speaking at an awards ceremony on Monday after winning the Panchina d'Oro, a prize handed to the manager deemed the best in Serie A.
"I would first of all like to thank my extraordinary players who have been giving me and the club enormous satisfaction for several years," he said. "I dedicate this award to my staff, who allow me to be here today with their help, and I also thank my club, who allow me to sit on such a prestigious bench.
"I wish all coaches the very best of luck for the remainder of the season, although a bit less [to] Sarri."
(You may also be interested inJuventus Coach Massimilliano Allegri Wins Serie A Manager of the Year for the 3rd Time)
Juventus lead Napoli by two points at the top of Serie A with nine games remaining.
"It's going to be neck and neck to the end between Juve and Napoli," Allegri added. "We've got three big tests: against Napoli at home, then away to Roma and Inter Milan, and we're going to have to be calm heading into the final stages of the season, which is going to be amazing.
"We've got a Champions League quarterfinal against Real Madrid and a Coppa Italia final, while we've got AC Milan straight after the winter break and they are in excellent form.
"Since [Gennaro] Gattuso took over, he's put things right and given order to the team and they're getting great results. It's going to be a tough game, but we've got to try to win it so we stay top, and then we can prepare for Real."