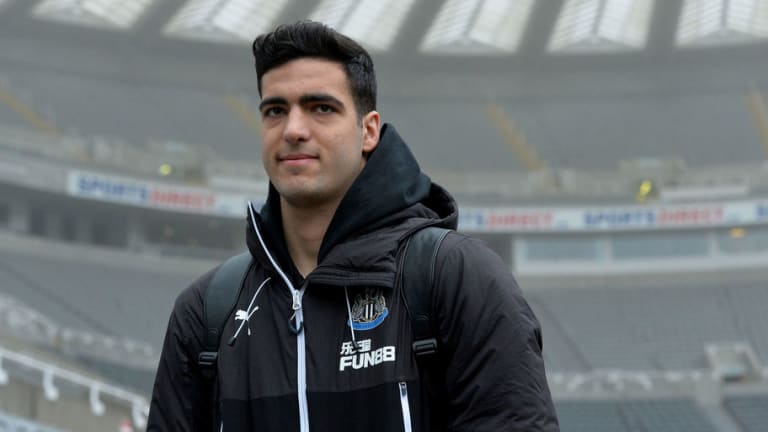 Rafa Benitez Reveals Why Midfield Star Has Struggled for Game Time at St James' Park
Rafa Benitez has explained why ousted midfield star Mikel Merino has struggled to find a place in his Newcastle team recently.
The Borussia Dortmund man joined the Magpies on a season-long loan back in August, a move that was made permanent in Otober, but, after a steady start to life in the north east, has not featured much for Benitez's side of late.
Speaking to the Shields Gazette about why that is the case, the Spaniard stated that his compatriot had been unfortunate not to make the starting lineup more regularly due to the form of Jonjo Shelvey and Mohamed Diame.
But Benitez did also reveal that Merino needed to work harder when he was in the team to retain his place for future matches, if he wanted to feature more often than he has.
Benitez said: "Jonjo's been doing well, Diame's been doing well, and so it's been difficult for Merino and (Isaac) Hayden. But they have to keep competing. That's it. He's not playing so much, because the others are doing well.
"We need players who can dictate the tempo of the game, manage the game for us, and when Mikel was playing well, Jonjo needed to work harder.
"He has to compete and make sure he gets back in the side. Always, we want to sign the best players, and when we have the best players here, then someone has to be on the bench.
"A player on the bench may not be good enough to start, and then all fans will ask 'why do you have him? He's not good enough'.
"What we want is fans to say about players who are on the bench is 'why is he not playing? He's really good'. But it's because another player's doing better than him.
(You may also be interested in Newcastle Fans Call for Spanish Midfielder to feature in More Advanced Role in Magpies' First Team)

"If you want to improve as a team, as a club, then you have to have good players on the bench. This will create a debate between the fans. Why is he not playing? Why is he playing there? Why isn't he in the team?.
"But when you do not have a strong squad, it means the players on the bench are not good enough – and that's bad for the team."
Newcastle fans have called for Merino to be deployed in a more advanced role in their team to get the best out of him, but it seems he will have to bide his time before he is called upon.