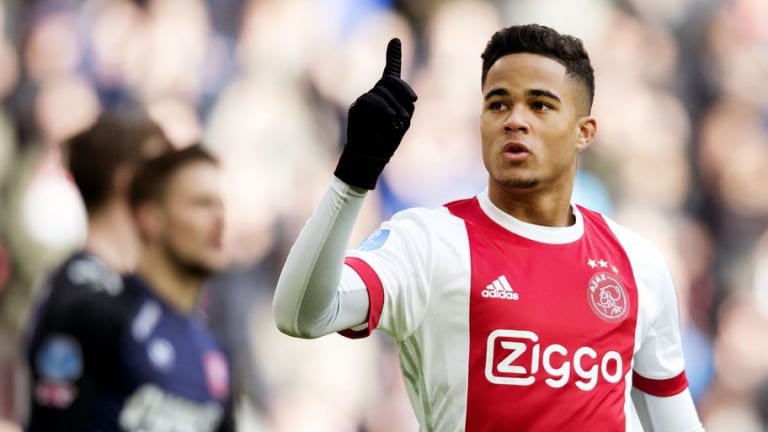 Justin Kluivert Opens Up Over Barcelona 'Dream' In Bid to Follow In Legendary Father's Footsteps
Justin Kluivert has revealed that his 'dream' of following in his father's footsteps and playing for Barcelona someday can happen.
The Ajax wonderkid sat down with Goal after he had been named the winner of their 2018 NxGn award - a gong that goes to the best young player in the world according to 500 different Goal correspondents across the globe.
In a lengthy and interesting interview, Kluivert was asked about the familial ties to the Catalan giants after his dad - Patrick - had plied his trade at Nou Camp during his own professional career.
And the 18-year-old was quick to state that he would love to play for La Blaugrana at some point during his own career if they wanted him to do so.
He said: "My dream club? Spain, Barcelona. That is my dream club. To follow in the footsteps of my father? Yes. That is my dream club in the end. I would not mind going elsewhere, but Barcelona are the dream."
Kluivert has drawn admiring looks from plenty of other European teams since he broke into Ajax's first team in the second half of last term.
The forward has made the left wing position his own for the Eredivisie giants this season as his star continues to rise - Kluivert having made 30 appearances in all competitions for his club and having weighed in with eight goals and four assists.
Comparisons between himself and his dad Patrick are to be expected, then, given how talented the former Netherlands striker was back in his day.
Kluivert, though, wants to use his father's knowledge and experience to help his own career and doesn't seem his family's name as a milestone around his neck.
(You may also be interested in Barcelona Stars Reportedly Want Club to Sign Liverpool Forward Rather Than Atletico Madrid Star)

He added: "He has obviously been very important because he has already been there before himself. He has experienced it all first hand and you can only learn from that. 
"If someone makes a mistake, he's not likely to make that same mistake again. So, I am that person now and his experiences help me. I learn from his mistakes in that regard. Of course, I still make some mistakes, but I learn from those as well. That's part of my development."