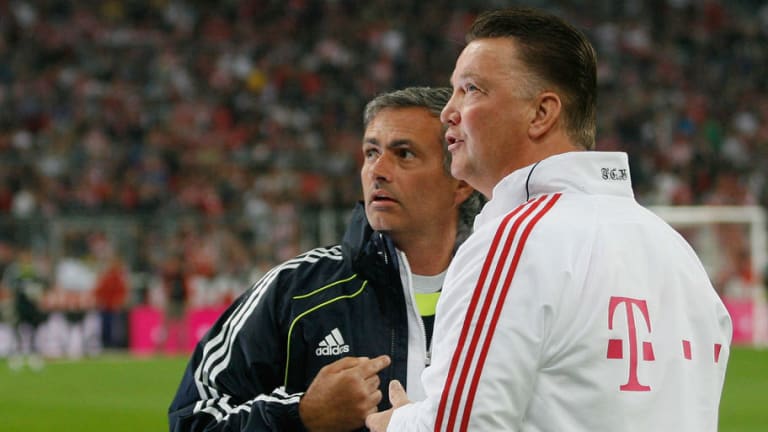 Louis van Gaal Refuses to Blame Jose Mourinho for Man Utd Sack But Criticises Ed Woodward
Former Manchester United boss Louis van Gaal insists he has no ill feelings towards the club's current manager Jose Mourinho, but is still unhappy with the way he was treated by Ed Woodward.
The Dutchman was fired by the club even after being assured that he was safe, with Mourinho being appointed in his place. So far, the Portuguese has done little better than his former mentor, save winning the Europa League that guaranteed Champions League football this season.
But United have since exited the competition, bowing out to Sevilla in the round of 16 this month.
Speaking to SportBild, Van Gaal said that he didn't blame Mourinho for wanting to coach United as it is a dream job for every manager.

"I am not disappointed with Jose Mourinho. Every coach wants to train Manchester United, it's one of the biggest clubs in the world," he said.
"I think Jose wanted that, too, and although he was able to do so in 13th place, he had a chance on a fantastic team like Chelsea. I was in fourth place! I still do not blame him.
"What I find wrong is when a CEO says we're totally happy with you, do not believe the press. Then you win the FA Cup and still be fired."
The 66-year-old was also full of praise for Manchester City coach Pep Guardiola, whom he hailed as the best in the top flight before adding that he would have loved to play a system similar to the Spaniard's at City, but wasn't afforded the time.
(You May Also Be Interested In:'F**k Off And Die': 5 Times Managers Have Lost It With Their Own Fans')
"Pep Guardiola is, for me, currently the best coach of the Premier League," he declared. "Pep made City a machine.
"He shows a football that I would have liked to play at Manchester United. But he has better players for it. For me, the process would have taken longer. Unfortunately, I did not get the time."