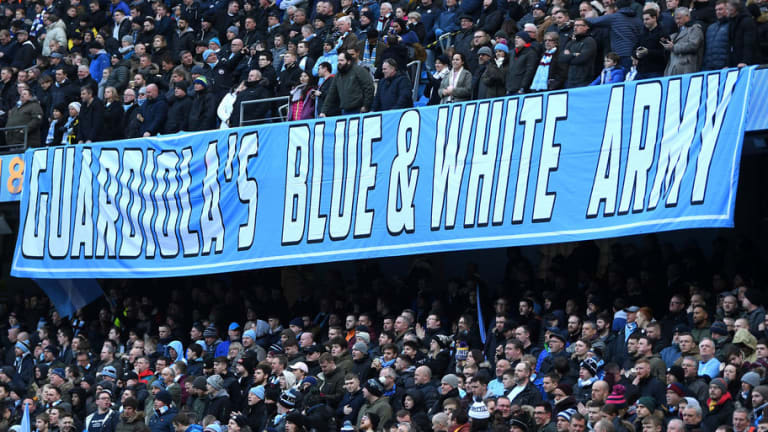 Report Claims Man City & Other Premier League Clubs Have Released Bogus Attendance Numbers
Manchester City have been accused of embellishing their attendance figures at the Etihad Stadium by a freedom of information report, that claims the club have averaged nearly 10,000 empty seats for Premier League games this season.
According to the Sun, the official figures generally state that the club has gathered crowds of almost 54,000 this season, but in reality crowd safety figures collected by police and obtained by the newspaper show the average attendance has actually been closer to 46,000.
On 18 January, the Sun filed a freedom of information request to police forces covering the Premier League's 20 clubs. City stated that the average attendance was 53,998, but the Sun claim that it is actually 46,229.
The report also claims that it is not just the Manchester club where official attendance and gate numbers do not tally up.
Southampton also recorded an official attendance 17 per cent higher than its actual gate. According to the report, the Saints said it had an average crowd of 30,478, but 26,105 had actually headed to St Mary's stadium per league game.
Watford is another Premier League club that has published home attendances that are 10 per cent more than their average crowd. The Hertfordshire club states that its average attendance is 20,319, but the Sun claim the club's actual average gate is 17,717.
Fan groups have decried fixtures being rearranged for television coverage as the main factor behind huge numbers of fans opting to skip games.
Kevin Parker, general secretary of Manchester City Supporters Club, told the Sun: "I think it's mainly down to TV scheduling. Fixtures being moved at late notice and night games both have an impact on season ticket holders who find they can't attend games.
"I was at the Southampton game and I don't think the crowd was only 38,000. I actually think our ticket exchange system and pricing policy is very good and we don't have any more empty seats than other clubs - even if we are sometimes unfairly targeted.
"It's a catch-22, the Premier League takes the TV money and as a result get to watch world-class players, then it's the TV companies' prerogative to schedule the fixtures as they see fit.
"That can inconvenience fans and means season ticket holders can be forced to miss one or two problems, but then would the crowds be as large is we didn't have the great players in our league?"