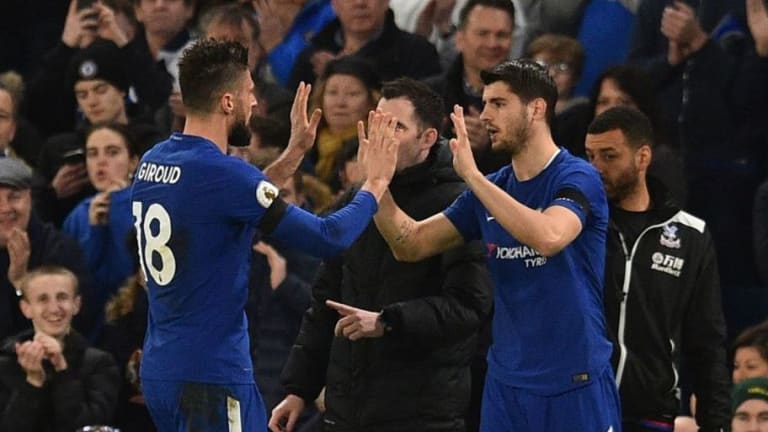 Antonio Conte Doesn't See Competition With Giroud As Reason Behind Alvaro Morata's Improved Form
After a barren run of 13 games, Alvaro Morata was back amongst the goals again for Chelsea with an extra time winner against Leicester to send the Blues through to the FA Cup semi finals. 
After making his £60m move to London from Real Madrid last summer, Morata started his Chelsea career strongly and looked a early contender for signing of the season. The Spaniard scored six goals in first six league games for the Blues, but his form nosedived after the Christmas period. 
Olivier Giroud was signed from Arsenal in January to give Morata a bit of help up front and to give Chelsea another attacking option. The Frenchman has sometimes started ahead of Morata in the face of the striker's poor recent form.
However, Morata's performances seemed to have picked up and is finally back to scoring goals. When trying to explain Morata's return to his best, Chelsea boss Antonio Conte does not believe that it is down to having to compete with Giroud. Getting over a niggling injury also seems to have played a large factor in Morata's performances. 
"I think the problem wasn't the competition. I don't think this was the problem," said Conte, as quoted by the Evening Standard.
"I'm very happy that, in the last game, Alvaro scored an important goal for us and for him. Now I'm waiting for a great final [part] of the season from Alvaro, from Olivier but, especially, for the team. 
Morata was sidelined for a few weeks in January due to a persistent back injury. It has taken time for Morata to recover, but Conte believes that the striker his finally back to full fitness. 
(You may also be interested inREVEALED: The Unusual Lengths Alvaro Morata Went to in Order to Break Goalless Streak)
He added, "He had this problem in his back. If you remember, I said I didn't know the time of his recovery: one day, one month, if the season had finished. I think, at the start of this period, he continued to feel a bit of pain in his back. But now he's ready, totally fit.
"For sure, when a striker is not scoring, the confidence can go down. For the strikers, the goals are of vital importance: for himself, for his confidence.
"But no, I repeat, I saw him very well in this period. I think it has been an important period for him. He needed to rest and then to have hard sessions of work to find his best physical condition for the final part of the season."