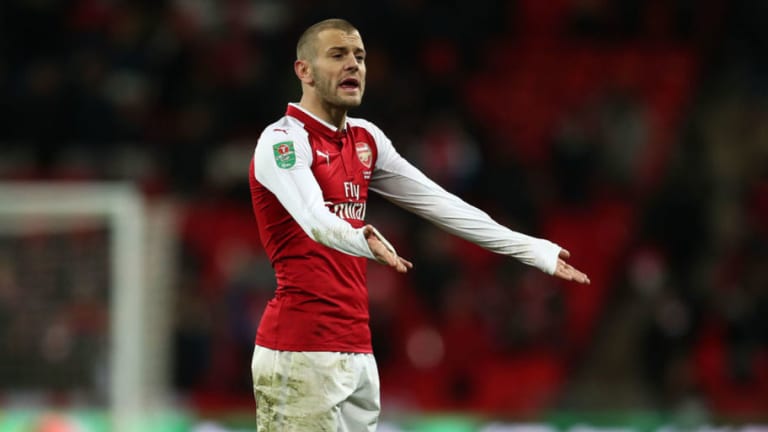 Arsenal Admit Fears That Contract Rebel Jack Wilshere May Never Fully Overcome Injury Woes
Arsenal fear Jack Wilshere will never be able to fully overcome his injury woes, with the 26-year-old's fitness concerns behind the current contract standoff. 
The England international's deal with the club expires at the end of this season, meaning he can leave the Emirates Stadium on a free transfer if no new agreement is in place. 
The midfielder is said to be keen on extending his stay in north London by putting pen to paper on a £110,000-a-week deal - the same as his current wage - but the Gunners want to lower that by £30,000.
There is no shortage of interest in Wilshere, with Everton and West Ham United just two sides currently monitoring the soon to be out of contract playmaker; however, they will be wary of the 26-year-old's medical history. 

And due to boss Arsene Wenger losing his voice ahead of Arsenal's Stoke City pre-match press conference on Friday, Steve Bould admitted to the Daily Mail that despite being a talented player, the Englishman might never reach his full potential due to injury. 
"Perhaps he will always have a little niggle here and there because of the way he is structured", the Gunners assistant manager said. "That's his make-up now.
"He's a great player. A fit Jack Wilshere is a very good player. We are all hopeful longer term he has overcome those issues.
"I've known Jack since he was a real young kid. He's a great footballer — he loves the club and we just need him fit more often than he has been.
"It is coming slowly but surely. It is something he might have to manage all his career. That's the nature of Jack I'm afraid. He can pick up an injury because his ankle will turn, his knee will… he's got a sore knee."
Despite missing out on international duty with England last week due to that knee injury, Wilshere is expected to be part of the starting lineup for Arsenal when Stoke visit the Emirates Stadium this weekend.