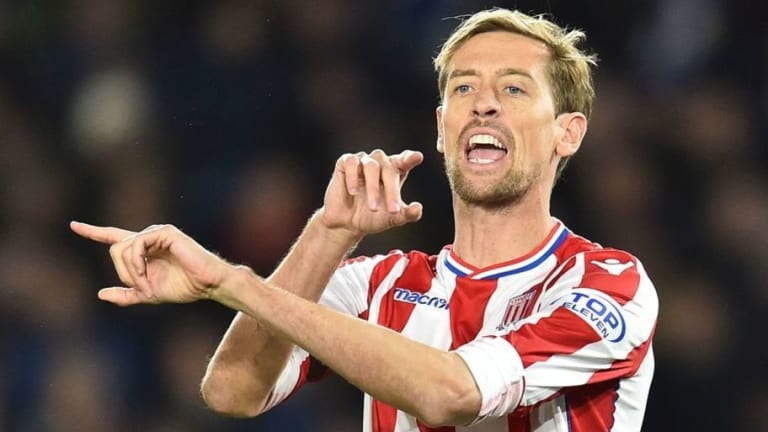 Stoke City's Peter Crouch Reveals His Vote for PFA Player, Young Player and Team of the Year
Stoke City striker Peter Crouch has revealed who received his vote for the PFA Player of the Year award, while also disclosing who got his vote for Young Player and Team of the Year.
Many believe that the PFA's top award will be contested between Manchester City's Kevin de Bruyne and Liverpool's Mohamed Salah this season, with Crouch admitting that his vote has gone to the Egyptian.
In what has been a brilliant debut season for Jurgen Klopp's side, Salah currently leads the Premier League goal-scoring chart with 28 goals, and the former Liverpool and Tottenham man revealing when he first began to notice the talent of Salah.
In his column for the Daily Mail, Crouch said: "For me, it's Mo. That's the only way to say it. This week footballers up and down the country have been casting their votes for the PFA awards and my star of the Premier League season is Mohamed Salah.
"The night we faced Liverpool at home was the night he really made an impression on me. He came off the bench and scored two goals, the first being a volley that couldn't have been hit any sweeter. I was standing directly by him and it was going in from the moment it left his foot.
"What Salah has done over the last three months will be fresh in everyone's mind. I also think the impact he has had on Liverpool, with the amount of goals he has scored, is bigger than the influence De Bruyne, who is surrounded by world-class talents, has had on City."
Crouch also discussed his choice for the PFA Young Player and Team of the Year, and despite earning his vote for the Young Player award, there was no place for Manchester City winger Leroy Sane in his team of the year.
(You may also be interested Jurgen Klopp Hails Virgil Van Dijk's Leadership as Reds' Captaincy is Called Into Question)
Instead, Crouch went with an eleven of David De Gea, Kyle Walker, Nicolas Otamendi, Harry Maguire, Ashley Young, Mohamed Salah, Kevin de Bruyne, David Silva, Eden Hazard, Harry Kane and Sergio Aguero with many Man City players expected to dominate the Team of the Year award.
For Crouch, he attention will turn to a difficult trip to Arsenal this Sunday. The Potters are currently 19th in the table, three points from safety with seven games left to salvage their Premier League status.