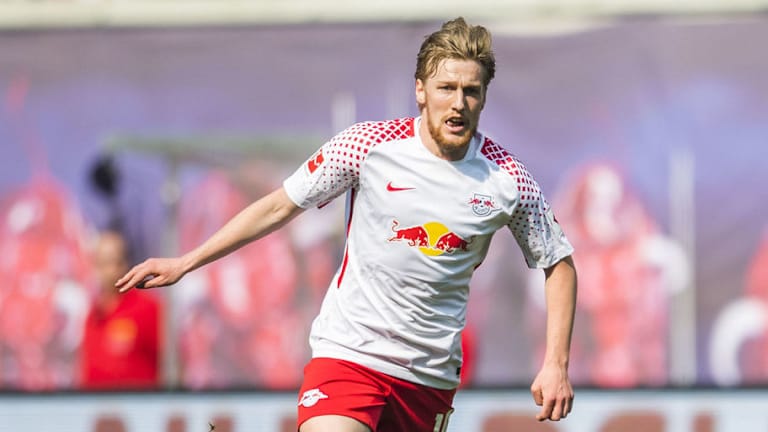 Publish date:
Arsenal Linked With €40m-Rated Star Again After Furious Agent Fuels Summer Exit Speculation
RB Leipzig forward Emil Forsberg won't be playing in the Bundesliga for the rest of the season and may very well have played his last game for the German side.
Forsberg was handed a three-match ban after being shown a red card during Leipzig's 5-2 defeat to Hoffenheim on Saturday, which has ruled him out for the rest of the campaign. 
His agent, Hasan Cetinkaya, was none too pleased at the decision, calling the ban a 'scandal'.
"The ban is a scandal! Emil was fouled and provoked, didn't even hit his opponent properly," he said to Bild. 
"The verdict is an attack on RB and Emil. They would not have done such a thing to a Bayern Munich player!"
The German publication go on to claim that the Sweden international has made no secret of his intention to leave Leipzig and suggest that an offer of €40m will be enough to tempt them to sell this summer - with Arsenal chief among those interested.
After getting banned, Forsberg posted a tweet simply saying: "Thanks for everything."
The tweet could simply be considered a sarcastic jibe aimed at the Bundesliga's powers that be, or a declaration that he has played his last game for his current club.
Cetinkaya stoked the fires of speculation speaking toAftonbladet, where he is quoted as saying: "When the last game has been played, everyone will see what Emil means."
While Arsenal have been strongly linked with Forsberg in recent months, the uncertainty over the direction of the club following the news that Arsene Wenger is set to step down at the end of the season, means their targets may change depending on who comes in as a replacement in the summer.