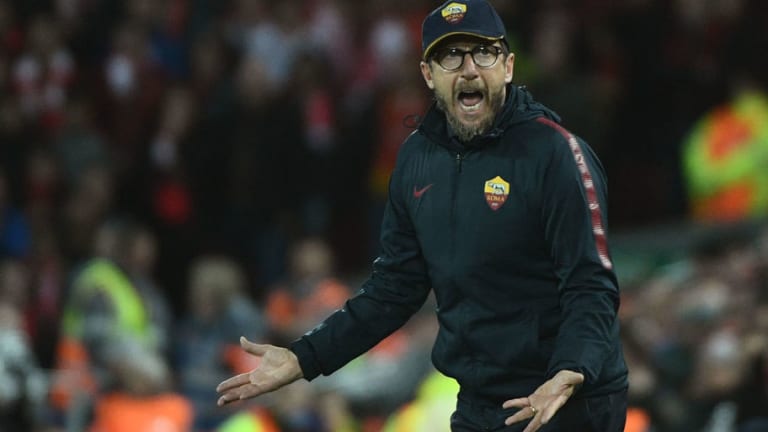 Di Francesco Insists Roma 'Don't Need Miracles' Despite Heavy Semi Final Defeat to Liverpool
Roma suffered a huge bow to their Champions League ambitions, as they were dealt a 5-2 loss at the hands of Liverpool at Anfield on Tuesday night.
Despite a promising opening to the tie, Roma quickly unraveled as the Reds ran riot around them and raced to a 5-0 lead. However, the Italian visitors left Anfield with a glimmer of hope for the return leg as a late boost gifted them with two vital away goals. 
Roma's late show may have provided them with a way back in to the tie, but Eusebio Di Francesco is still not happy with his team's performance, accusing them of 'giving up'.
In his post match press conference, Di Francesco said (via Goal): "We started to lose too many duels and lost shape after the first goal.
"We didn't read the game as we should have done and we lacked quality.
"Football is not a game about systems, it is about winning those individual duels. It could have been more than five at one stage.
"What I didn't expect was to concede so many goals one after the other in second half. When you lose so many midfield duels, it's hard to change the trend of the game.
"We gave away too many balls, we worked on it and knew they were lethal on the break in that area. I changed things as we lost shape, too much space and needed vitality and another striker to try to play and hold up the ball more."
However, despite criticism of his own team, the Roma boss hasn't given up hope just yet and insists the players must 'believe' they can reach the final.
He continued: "I think we deserved to score those two goals, the team proved to have soul, but I didn't like that we gave up during the second half. We controlled the first 20-25 minutes but then we started to lose too many duels.
"We don't need miracles, we just need to believe like against Barcelona and our fans will be there supporting us.
"This is the first Champions League semi-final for Roma in three decades, we're not used to it. But let me remind you: the tie is not over.
"Whoever does not believe in the comeback can stay at home. I feel responsible, I am the most responsible here, but we are still playing in a semi-final."