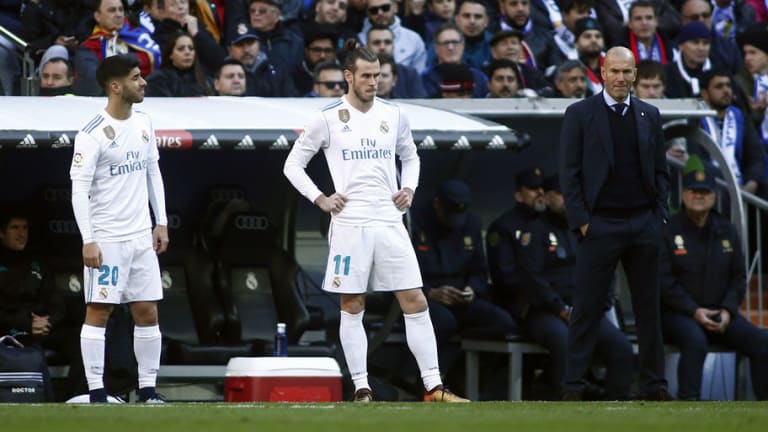 Zidane Hints Big Names Could Leave Real Madrid This Summer Given Lack of First Team Football
Real Madrid boss has hinted that certain star players could be allowed to leave the club in search of playing time at the end of the season, per The Telegraph.
The Frenchman made reference to the situation surrounding James Rodriguez, who joined Bayern Munich on a two-year loan deal last summer, claiming that he had no problems with the Colombian apart from not being able to provide him with as much game time as he wanted.
The situation appears to be the same with Gareth Bale, who, even when fit, just hasn't seemed like he's one of Zidane's prime options. 
Reports have been rife linking the Welshman with an exit, with many outlets suggesting that this summer could spell the end for the attacking trio of Bale, Karim Benzema and Cristiano Ronaldo.
Ronaldo, of course, is unlikely to leave Real just yet, while Benzema isn't heavily linked with any other clubs. Bale, on the other hand, has been tipped to make an exit for a long time.
"I never had any problems with James," Zidane explained ahead of Wednesday's Champions League semi-final tie with Bayern. "He just wanted to play more and I understood. This year will be the same - there are important players but they have to sit on the bench. This is the most difficult part of being a coach."
Zidane does seem to suggest that he will continue to leave star players on the bench if needs be, yet that's hardly different from what all managers in charge of top teams are regularly faced with.
(You may also be interested in: World Cup Countdown: 8 Weeks to Go - Ranking the Best World Cup Kits of All Time)
While his statement could indeed be a hint Bale could be let go, there's not a whole lot to grasp from it and we'll just have to wait a few more months to see what happens.