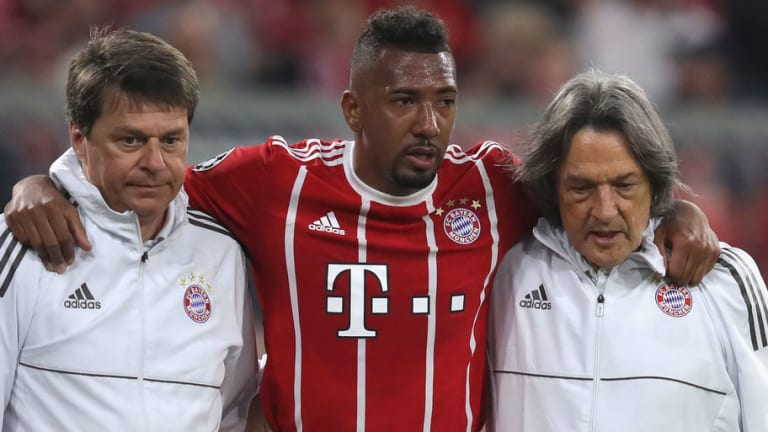 Bayern Munich will be without key defender Jerome Boateng for the remainder of the season after the defender sustained a thigh injury during their UEFA Champions League clash, but the defender has insisted that he will 'fight' to be fit for Germany's World Cup defence.
The 29-year-old suffered the season-ending adductor injury in the opening half hour of Bayern's defeat to Real Madrid in their semi-final clash on Wednesday evening, with the former Manchester City man facing a reported four to six weeks recovery period. 
In light of the news, Boateng took to his Twitter account where he wrote: "Life is full of setbacks. Live, feel, love, laugh, cry, play, win, lose, stumble, fall, but keep getting up. Now it is time to fight to be in Russia. I'll give everything for that.
"For the remaining games this season I will support my team as well as it goes. Thanks for the many recovery wishes!"
The injury, confirmed by Bayern, comes as a major blow to Germany manager Joachim Löw as Boateng faces a race against time to prove his fitness for his side's opening game in Russia against Mexico on June 17.  
The defender's absence will also come as a blow to Bayern's hopes of a completing a comeback against La Liga giants in the second leg of the semi final next week, where he would also miss the final should the Bavarian giants progress.
The German outfit also confirmed Javi Martinez's head injury and subsequent bruising will require a two day absence from training, while Arjen Robben has not been given a timescale following the groin injury sustained in the opening eight minutes at the Allianz Arena.