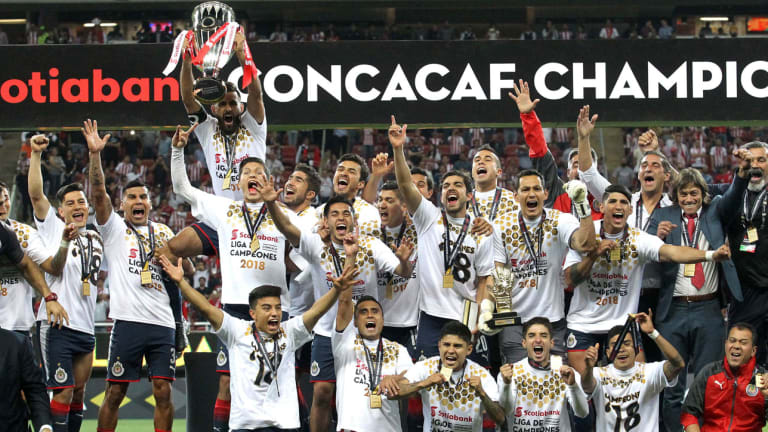 Toronto FC's Concacaf Champions League comeback ended in heartbreak.
After battling back from two goals down on aggregate to force penalty kicks on strikes from Jozy Altidore and Sebastian Giovinco, TFC was beaten from the spot, with Chivas claiming the 2018 CCL title. Chivas went a perfect 4-for-4, while Jonathan Osorio and Michael Bradley missed their kicks for Toronto, the latter skying his effort to seal the result and spark celebrations throughout Estadio Akron.
Coming back against a Mexican team away from home was always going to be tough for Toronto FC. Factor in a rash of injuries across its back line and an early concession to its opponent, and that task seemed considerably taller. But TFC put up more than just a fight.
Facing a 2-1 deficit after a home defeat in the first leg, playing without any natural center backs, and with Bradley forced into defense, Toronto FC knew it needed a triumphant road performance in a situation where many MLS teams before them have failed.
It didn't start well, as Chivas scored first, with Rodolfo Pizarro finding Orbelin Pineda on the counterattack. The Mexican international got in behind TFC's patchwork defense and beat Alex Bono to give the hosts a 1-0 lead on the night and a 3-1 lead on aggregate.
TFC responded, though, with Altidore scoring a much-needed goal. The sequence came off a corner kick, with Nicolas Hasler eventually crossing through the box to Altidore, whose first-time effort split the legs of two players before hitting the back of the net. 
Just before halftime, Toronto pulled even. An incredible individual effort from Giovinco did the honors, leveling the aggregate 3-3 and pulling Toronto even on away goals.
Toronto FC maintained its pressure in the second half, with Victor Vazquez delivering a low blast on frame, only for Rodolfo Cota to smother it with a clean save in the 53rd minute. 
Things took a physical turn when Chivas's Michael Perez appeared to strike Giovinco in the chest, only for the referee to swallow the whistle and allow play to continue. 
Chivas then nearly took the lead just after the hour mark, with Jose de Jesus Godinez, just on as a substitute five minutes earlier, striking the post on a blast from distance. On a subsequent sequence, Alan Pulido nearly scored an identical goal to his winner in the first leg, but Bono managed to tip it over the bar to keep the final level.
Toronto FC suffered a setback in the 85th minute when Altidore was forced off with an injury. With the team tiring, that didn't stop Giovinco from coming inches wide of netting the winner, putting his long-range blast just to the left of the post.
TFC had another golden opportunity in stoppage time, when Giovinco put a cross on a platter for Marky Delgado only for the wide-open midfielder to sky his volley over the crossbar from 10 yards out.
Since there is no extra time in the CCL, the final went straight to penalties with the aggregate and away-goal draw, per Concacaf rules. 
Oswaldo Alanis opened with a conversion for Chivas, followed by an answer from Giovinco. Godinez made it two for Chivas, but Osorio couldn't answer, hitting his chance off the bar. Pulido kept Chivas perfect, and Delgado answered for TFC, making it 3-2 Chivas after three rounds.
Angel Zaldivar put the pressure back on Toronto FC with a fourth straight conversion, and with Bradley at the spot, the captain fired over the bar, securing Chivas's first regional title since 1962 and forcing MLS to wait at least another year for its first winner in the CCL era.