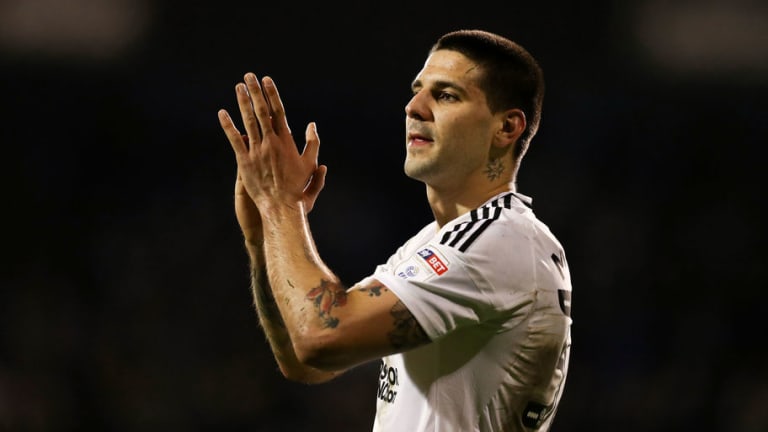 Newcastle Fans Call for Club to Cash in on Loan Star After Nasty Off the Ball Incident
Serbian striker Aleksandar Mitrovic has finally found his footing in England while on loan at Championship side Fulham. 
Mitrovic has 11 goals in his 12 games for the Cottagers, leaving some observers to wonder why Newcastle United allowed the 23-year-old to go out on loan. Newcastle's top scorer in the Premier League this season has been Dwight Gayle with five. 
But Rafael Benitez will feel vindicated by his decision to let Mitrovic leave after television cameras caught a crazy off the ball incident during a game between Fulham and Millwall. 
Millwall player Tim Cahill clattered into Fulham's Tom Cairney near the touchline. Advantage was given to Fulham, but Mitrovic appeared to step into the path of Cahill and elbow the Australian in the face. 
This incident has added to Mitrovic's already well established hotheaded and aggressive reputation, which is a reason why Benitez does not trust Mitrovic enough to play him at Newcastle. 
Many Magpies fans took to Twitter after seeing the incident to declare that Newcastle are better off without the striker. Too much of a liability, many fans would like to see Newcastle cash in on Mitrovic in the summer.  
(You may also be interested inNewcastle Fans Call for Club to Sell Loanee to Fund Permanent Deal for Chelsea Winger)
It should be noted that cameras showed Mitrovic and Cahill laughing and hugging after full time whistle had blown. Neither player looked too bothered by the incident, but it does seem the Serbian was a bit fortunate to not have have any retrospective action taken against him. 
Meanwhile, Tim Cahill was given a violent conduct charge for an incident later in the game where he appeared to elbow Fulham's Liam Fredericks. Millwall lost the match 3-0 and Cahill will now serve a three match ban, which could be a big blow to Millwall's bid to reach the playoffs.