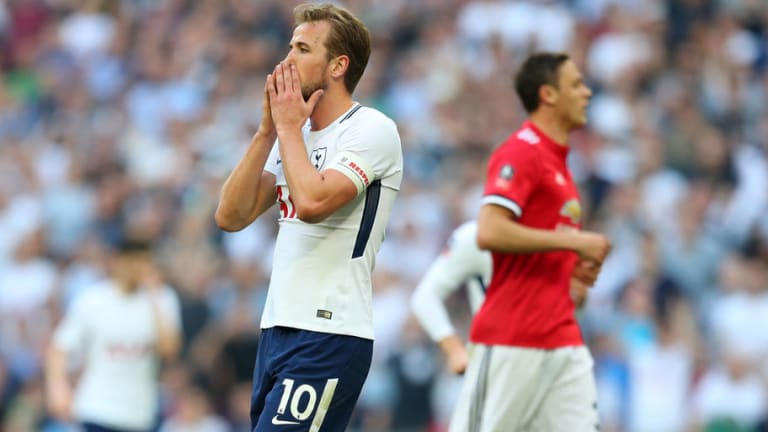 Tottenham manager Mauricio Pochettino has launched a strong attack on a tweet posted by the Football Association which mocked Harry Kane during Spurs' FA Cup semi-final defeat to Manchester United, branding the FA's social media jibe 'embarrassing'.
The FA were prompt in apologising to both Tottenham and Manchester United following a bizarre tweet which was posted by their official Twitter account, which referred to Spurs striker Kane as being in Chris Smalling's pocket during the match.
Both clubs were unhappy with the inappropriate nature of the tweet, with the Telegraph report that Pochettino suggested that Kane was also saddened by it. The Argentine coach also commented on the strange nature of the FA taunting one of their own stars ahead of the World Cup.
Pochettino said: "It was embarrassing, no? It was a shame, because the FA is English football and Harry Kane is a potential captain in the World Cup. It is difficult to understand, very difficult and they have apologised about that".
Pochettino also explained his personal dissatisfaction over the incident, retorting: "The situation disappointed me. The fact it happened, then they apologised after a few days. But move on. That is the reality. We need to protect our assets, our English players, our young players".
The Spurs boss clearly feels impassioned in defence of his players, not just in terms of their performances on the pitch, but also of their emotions on a personal level.
"Harry was very sad. But he's strong in his mind", Pochettino continued. "He's moved on. We are helping him to move on. It was a mistake and he needs to move on quick".
Tottenham's next match is on Monday night, as Pochettino's side host Watford. Kane will again be likely to lead the line for Spurs and will be keen to avoid any further talk of getting lost in anyone's pocket at Wembley by returning to goalscoring ways in his pursuit of the Premier League Golden Boot.