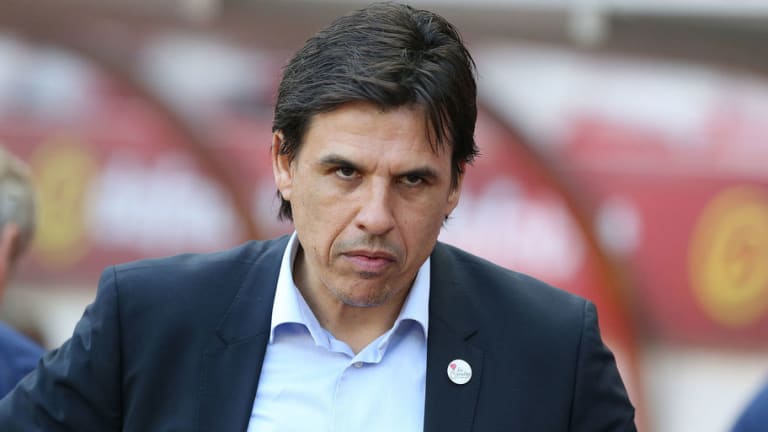 Chris Coleman has revealed he is prepared to take a pay cut ahead of next season but admits his future is still very much uncertain with the club in its state of "limbo".
The Black Cats are preparing for only their second spell in the third tier of English football throughout their 139-year history after relegation was confirmed following a 2-1 home defeat to Burton Albion last weekend. 
There is little secret as to the financial troubles the Wearsiders currently find themselves in; with their £1.5m outlay on players telling despite offloading Jordan Pickford for around £30m and Jermain Defoe no longer being on the wage bill.
However, despite Coleman admitting he has no relegation wage reduction clause in his contract, he told ChronicleLive would have "absolutely no problem" invoking one. 
"There's nothing [about a pay cut] in my contract, but I'll tell you now, I have absolutely no problem with having a different contract," he said. "That's not the problem for me; the problem is what the plan is for the team, the signings.
"I'd do it [renegotiate] if someone wanted to look at the contract."
The Welshman's current deal at the Stadium of Light runs until 2020, with Coleman signing a two-and-a-half-year agreement earlier in the season.
However, the 47-year-old indicated that if things change over the course of the summer and he no longer finds his services required in the north east, he would be willing to part without seeking full payment of the remainder of his contract.
"I signed a two-and-a-half year contract, the plan was stay up, get up, and then stay up again, if that makes sense," he said. "Everything was geared towards the Premier League, that's where we were looking.
"But look, again, whoever is the owner, if we have to cut our cloth and there are sacrifices to be made to help us go in a certain way, then I'll do that. I haven't got a problem with that."
Many questioned Coleman's decision when he elected to leave the Wales national job to join sinking Sunderland, with Premier League clubs also said to be interested in his talents. 
However, the former defender continued to insist he does not regret his decision, despite a small portion of the Wearside fanbase uncertain whether he is the right man to take the club back up the leagues. 
"The pull of the club is the size," he said. "I've come at a time, maybe my timing wasn't right, but my choice of club was definitely right. For me, I may never have got another chance to manage Sunderland.
"Let's say I get nudged in a couple of weeks time, I can still say I was here, manager of Sunderland, and that means something for me. I hope that this time next year it is a completely different conversation, full of excitement and optimism, I still hold on to that.
"If it gets to the stage where I think I can't do it, something drastic will have happened, and that's after relegation which is drastic enough. I'm not there yet.
"As a football manager, your future is always uncertain," Coleman added. "You are four or five results away from being on thin ice, or you are five or six wins away from being linked with a better job – that's how it is.
"We've just been relegated, so it's no surprise that some people are saying I should get the sack, and others are saying I should stay in the job. I really don't know what the future is going to be, and that's quite daunting and unsettling.
"Until we get the necessary information from the necessary people, we are where we are."
(You may also like: FanView: What Sunderland Must Address to Emulate the Rokermen of 1988 Following Relegation)
Sunderland chief executive Martin Bain spoke to the regional media earlier this week regarding a potential takeover at the club, with the Scot claiming there are interested parties and revealing his role in the process.
However, Coleman, who himself has never spoken to the club's owner Ellis Short, admitted he does not believe the US-based business tycoon will speak out on the matters like he did nearly 12 months ago.
"I don't think Ellis is going to come out and say anything," added the Welshman. "I know Martin has been talking to people [about the takeover] but that's nothing new, it's been going on for months.
"The new beginning will come either when Ellis says 'I'm still here, I can't sell the club, and this is what my plan is', or a new owner comes in. Until that happens, we are in limbo."