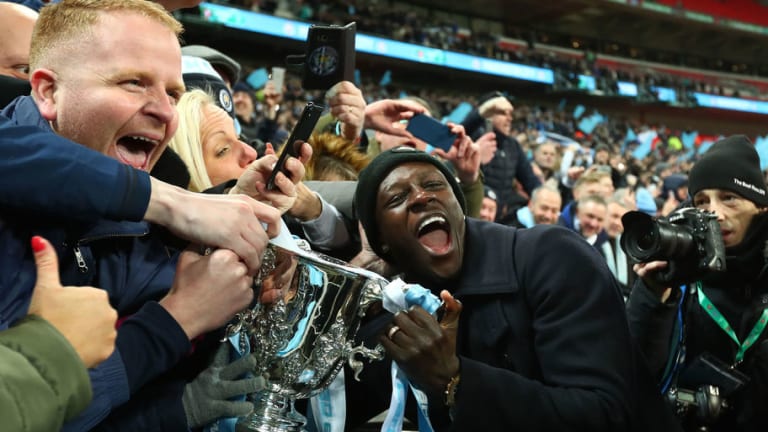 6 Big Name Footballers Who Are Definitely Worth Following on Social Media
Social media is becoming a massive part of modern day football. Sites and apps such as Twitter and Instagram now allows players to post their own messages and interact with the fans like they've never been able to before.
While a lot use it to post the usual pre or post match spiel that you hear churned out week in week out in interviews, there are a few that take it to the next level.
So, who are the most entertaining footballers to follow on social media? Here's a list of just a few that may raise a smile. 
1) Benjamin Mendy (@benmendy23)
The self-proclaimed 'social media entertainer' is the perfect player to kick off a list of...well....social media entertainers. 
The Manchester City player has been sidelined for the majority of the season thanks to a knee injury, but he has not let that dampen his spirits, keeping fans across the globe entertained with his social media antics. 
He even created his own craze, with #SharkTeam - a term to describe Guardiola's dominant City side. The hashtag has had its own Twitter emoji and has even led to Man City fans wearing inflatable shark hats to games. 
2) Patrice Evra (Partice.evra)
Who can forget the former Manchester United defender dressing up as a panda to promote anti-racism in football? 
The full back has coined the catchphrase 'I love this game', and it has become synonymous with the West Ham player's social media accounts. 
If you're having a tough day, a quick scroll through Evra's Instagram account is sure to put a smile on your face. 
3) Robert Huth (@robert_huth)
While he doesn't tweet very often, the tweets are usually worth the wait. His exchanges in particular with ex Stoke City teammate Jonathan Walters (@JonWalters19) are sure to raise a smile. 
The Leicester defender's dry wit would be a welcome addition to any timeline.
4) Peter Crouch (@petercrouch)
Much like Robert Huth, Crouch is not afraid to make fun of himself on social media, which leads to some memorable tweets. 
The 6ft 7in Stoke striker most famous post is arguably the one of him standing with his 'family' aka a pair of giraffes. But searching through his timeline, it is a treasure trove of entertaining tweets. 
5) Christian Fuchs (@FuchsOfficial)
The Leicester City full back is very active on social media, and has created his own hashtag and fashion brand - #NoFuchsGiven. 
The 32-year-old is often posting videos of random #NoFuchsGiven challenges that he has taken part in with various people around the world - with some entertaining outcomes. 
The former Austria international defender also loves an Instagram story following his day, weather he be at the training ground or out and about around Leicester or London. 
6) Michy Batshuayi (@mbatshuayi)
The Chelsea striker is currently on loan to Bundesliga team Broussia Dortmund, and is known for being active and on social media. 
Self proclaimed 'Batsman' has always been entertaining on Twitter, with his witty replies and posts. But he also uses the social networking site to raise important issues - such racist chanting and tweets being aimed at him. 
So, there you go, just a few of the footballers on Twitter and Instagram who add something a bit different to the usual 'Great game today, thanks to the fans' tweets that you see every week. 
Happy following!