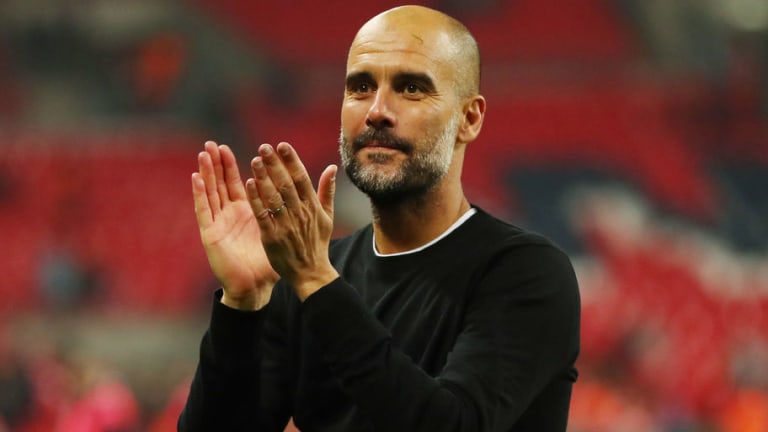 Guardiola Hopeful of Future Barcelona Role for Iniesta As He Admits He Learned From Departing Legend
Manchester City manager Pep Guardiola took time out of his press conference on Friday to heap praise onto Barcelona midfielder Andrés Iniesta, who announced that he would leave Catalonia after 22 years this summer.
A number of high profile names have come out over the last few days to pay tribute to Iniesta, similar to how the footballing world came together in support of Arsène Wenger last week.
And after being praised by his club's president, Josep Maria Bartomeu, for defining a "winning era" in Barcelona's history, City boss Guardiola was eager to thank Iniesta for helping him to "understand football better" following their time together at the Camp Nou.
"I could spend three minutes talking about what Iniesta means not just to Barcelona but to football," Guardiola told his press conference, quoted by Marca. "The last few years could not have been possible without him and he helped me understand football better by watching him play.
"What he does on the field, beyond what he won...the important thing is how he played how professional he always was.
"I want to thank him very much and I wish him the best for the future," he added. "One day, I hope that he will return to Barcelona to teach young players or professional players what he has learned.
"I learned a lot just from being around him, seeing him train and watching how easily he did things and what was most impressive was how natural he was.
"He did things with perfection too and simply had a natural gift that is incomparable."
The 33-year-old has made an incredible 670 appearances for the Blaugrana in his career, a statistic which is bettered only by his former teammate, Xavi. 
Iniesta is also the only player in history to given the Man of the Match award in the final of a World Cup, European Championship and Champions League.