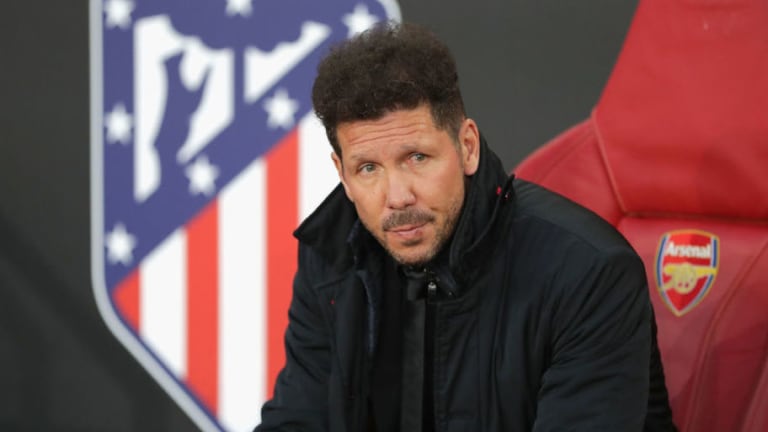 Diego Simeone Praises Atletico's Versatility Ahead of Europa League Semi Final Clash Against Arsenal
Atletico Madrid overcame several difficulties on Saturday as the side from Madrid defeated Alaves 1-0 thanks to a second-half penalty from substitute Kevin Gameiro with Atletico manager Diego Simeone praising his side's flexibility and hard work throughout the hard fought victory.
Fernando Torres missed a penalty but his second-half strike partner Kevin Gameiro, who came on as a substitute for former Chelsea attacker Diego Costa, didn't make the same mistake from 12 yards to seal the win.
Speaking (via Marca) after the game the Argentine manager praised Alaves for their performance but insisted his players' versatility to play in different positions and adapt to a new system proved key as Atletico overcame the difficulties early on to defeat Alaves.
"They started better and caused us problems up until more or less the 15th minute, when we changed to five at the back. Then the team felt more comfortable and we played well, I liked the ability to rebuild the team," Simeone said.
"We have players who can play in different positions, which gives us the chance to use different options. Today we went back to using the system with three central defenders because we needed it. [Sime] Vrsaljko played phenomenally, even better than as a full-back, I've told him so," Simeone continued.
Los Colchoneros undoubtedly had luck on their side as they were given two penalties in the game after defensive errors from Alaves, but Simeone admitted that he didn't see either of the incidents clearly enough to comment and praised the speed Alaves were able to attack at.
"From where I am it's hard to see and I didn't see either penalty clearly. It's not a surprise, we knew that Alaves know how to adapt to their opposition. They started very strongly with four quick players in attack, they counter attacked with speed, especially out wide," Simeone confessed.
Atletico, who sit second in La Liga's standings four points ahead of fierce rivals Real Madrid, return to action on Thursday as they face Arsenal at the Wanda Metropolitano in the second leg of their Europa League semi final clash after the teams drew 1-1 in the first leg at the Emirates stadium.