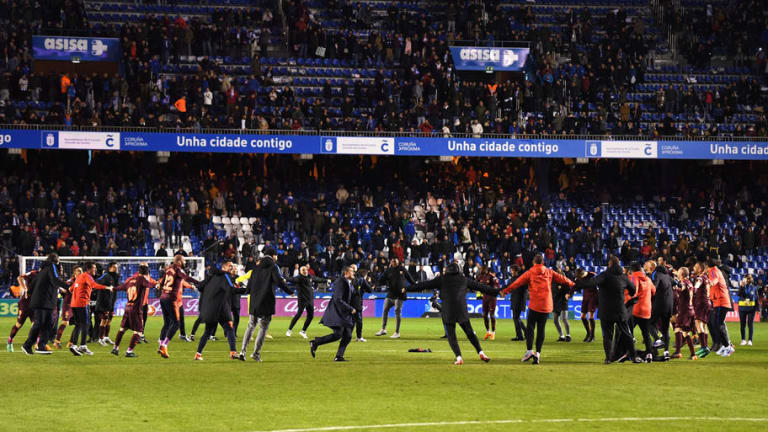 Sergio Busquets branded Barcelona's seventh La Liga title win of the decade 'outrageous' as the Catalonians were crowned kings of Spain on Sunday evening with a 4-2 win at Deportivo La Coruna. 
A stunning Philippe Coutinho opener and a Lionel Messi hat-trick rounded off Blaugrana's stride for silverware in style; securing the championship still unbeaten with four games to go. 
And following the match, while speaking to Marca, the midfielder hailed his side's achievement; insisting his teammates' focus throughout has been paramount.
"This title is glorious because, as the years pass, it becomes more difficult," Busquets explained. "Winning seven titles in ten years is outrageous, having competitors like we have and above all for how we have won it, with four games left.
"We've played an almost perfect season, without losing so far. We don't allow ourselves to slip up.
"We started very well, before the Atletico Madrid game we had played well, and from there we shot off. It's been a very good season; it deserves a high A, maybe an A+."
However, there was a tinge of sadness in Busquets' comments, as Sunday's crowning signifies the last title both he and Barcelona will win alongside Andres Iniesta following the Camp Nou legend announcing this season will be his last with the club on Friday. 
"It's very sad because we are losing a great player, but he has won the right to decide," he admitted. "You have to respect and support a player who has defined an era; we are proud to have had him and won all the titles there are.
"He is and will be a legend; we have to enjoy these games left with him. All the words we can say wouldn't cover what he deserves."
With Iniesta's departure, Busquets will now sit behind Lionel Messi in the captaincy rankings.