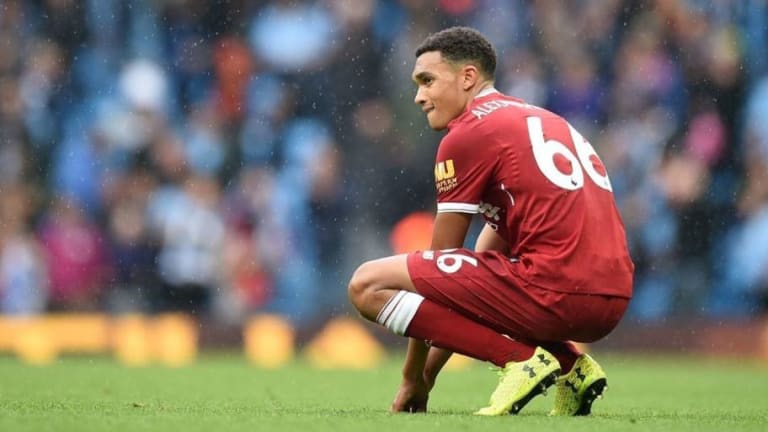 Publish date:
​Trent Alexander-Arnold Labels Man Utd Defeat as 'Biggest' Learning Curve Ahead of Roma Semi-Final
Trent Alexander-Arnold has insisted his performance against Marcus Rashford earlier in the season has helped him become a better player as the 19-year-old continues to impress at Liverpool.
The right back had a troublesome afternoon against the England international, with the Red Devils striker getting the better of the Reds man on more than one occasion during the Old Trafford defeat. 
However, while speaking to The Mirror ahead of his side's Champions League semi-final second leg against AS Roma on Wednesday, the hometown Merseysider claimed his ordeal, alongside the advice from Under-18s coach Neil Critchley and Academy director Alex ­Inglethorpe, has been paramount in his development. 
"Man United is probably the biggest thing I've learnt from," Alexander-Arnold said. "A tough game, a tough day, one of those you learn from. 
"The mistakes I made that day I learned from to make sure they don't happen again. I've tried to bounce back from them and prove myself with good ­performances from that day. 
"I'm still close with Alex and Critch, and the coaches at the Academy. There are plenty of times I've been up to see them for a catch-up, and they give me ­advice I can work on, how to get better. 
"It's important to get different points of view. They may see things differently to how the manager sees it. It is ­important to learn from people with experience in the game. The senior players have helped me. Maybe earlier in the season I would not have made the ­decisions I do now. I can see what I can do better."
Alexander-Arnold has been pivotal in Liverpool's successful Champions League run this season, with showings against Manchester City and in the first leg against Roma a true testament to how far he has come this term. 
And the young Liverpool-born defender, who has been with the club since the age of six, revealed he and his friends enjoy the fact he has played as many games in Europe's elite competition as Everton have throughout their history, although initially, they had thought he had toppled the Blues' numbers. 
"They said I've now played more Champions League games than Everton," he smiled. "That was quite funny. I enjoyed seeing that."
"Oh, equal is it?" the defender said when told of the error but, quickly added: "Oh well, hopefully, I'll play on Wednesday (against Roma). If I'm picked, it would be a good one to say then!"