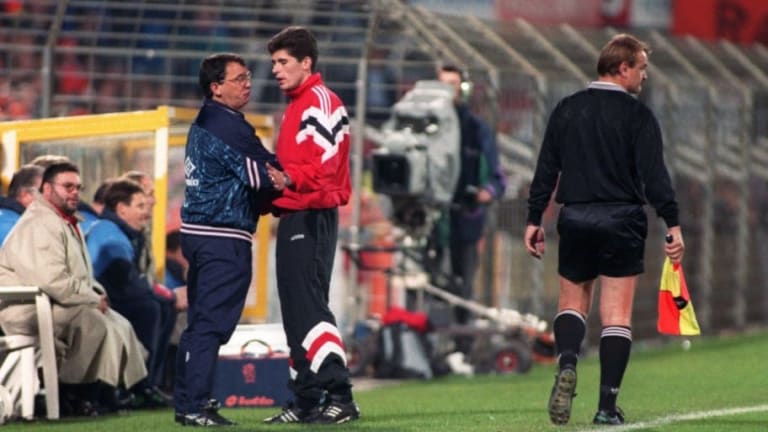 World Cup Countdown: 6 Weeks to Go - Why England Failed to Qualify for the 1994 FIFA World Cup
England fans have had more than their fair share of frustration and disappointment over the years. Yet few of the Three Lions' debacles were as abysmal as their failure to qualify for the 1994 FIFA World Cup.
When England were drawn with the Netherlands, Norway, Poland, Turkey (before they were good) and tiny San Marino, the task of qualifying as one of the top two teams in their group didn't look especially onerous for Graham Taylor's side.
Even after their dismal European Championship displays in 1992, few could have anticipated the sheer awfulness that followed. The statistics don't tell the whole story of how terrible England were in the 1994 qualifying campaign, but they're sobering enough on their own.
In three key away matches - against Poland, Norway and the Netherlands - the Three Lions picked up just one point, scored one goal and conceded five. At home, they failed to defeat Norway and threw away a two-goal lead against the Netherlands - two disappointing draws which would ultimately prove costly in the race for second place, which was won by the Netherlands.
1. Ruthless Norwegians Upset the Odds

This leads us to the first reason why England fell short - Norway's unexpected success. As well as getting a draw and a win against England, Egil Olsen's side achieved the same results against the Dutch.
They were arguably fortunate to draw 1-1 with England at Wembley, but there was nothing lucky about their victory in Oslo in June 1993. It was a strong contender for the unwanted title of England's worst ever competitive match.
Some commentators argue that England's capitulation against Iceland in the 2016 European Championship was their worst ever result. Yet their performance against Norway 23 years earlier had everything that was awful about the Iceland display.
There are several striking parallels between the two matches. Both Norway and Iceland were physically strong, well-organised Scandinavian sides without a great deal of flair or any big-name stars - with the exception of Iceland's Gylfi Sigurdsson.
Both sides had previously defeated more illustrious opponents, including the Netherlands. Both sides ruthlessly punished England's slack defending. And in both matches, England fell apart after making a bright start.
2. Tinkerman Taylor

Norway's victory in Oslo was symptomatic of several serious problems which dogged England's qualification campaign.
Taylor was prone to experimentation, which meant that he never had a settled side. After England's dismal display in their 1-1 draw with Poland in Chorzow, Taylor made his most audacious gamble yet. For the next match against Norway, he brought in a third centre back, Manchester United's Gary Pallister, in an untested 3-4-1-2 formation.
It backfired spectacularly. If anything, Norway's 2-0 win flattered a hopelessly disjointed England.
3. Stars of Italia '90 on the Wane

It wasn't all Taylor's fault, though - his players didn't exactly excel, either. In particular, two of the Three Lions' outstanding performers in the 1990 World Cup in Italy - defender Des Walker and midfielder Paul Gascoigne - looked like pale shadows of their former selves.

"You'll never beat Des Walker!" That was the popular chant about the lightning-fast defender, whose performances in 1990 were one of the main reasons why England reached the World Cup semi-finals.
Unfortunately, three years later, both the Netherlands' Marc Overmars and Poland's Dariusz Adamczuk did beat Des Walker, which cost England two crucial goals - the Netherlands' equaliser in the 2-2 draw at Wembley, and Poland's only goal in the game in Chorzow.
Walker was also badly at fault for Norway's two goals in Oslo - especially the first one, as he was too busy arguing with the referee to defend a quickly-taken free kick.
Yet it was the declining form and fitness of Gascoigne - widely regarded as one of the most gifted players ever to represent England - which really cost the Three Lions. Having shone in the home matches against Norway and Turkey, he was barely noticeable in Oslo.
Unfortunately for Taylor, he didn't have many other outstanding players to choose from. Midfielder David Platt was arguably the only England star who consistently looked like an international class player at that time, though he had only a fraction of Gascoigne's talent.
Taylor had the misfortune of managing a side in transition - many of the heroes of Italia '90 were either past their prime or no longer available for selection, and the so-called 'Golden Generation' were yet to emerge.
4. Luckless Lions

There is one more reason why England failed to reach the 1994 World Cup. For all their shortcomings under his stewardship, Graham Taylor wasn't the luckiest of England managers - at least, he wasn't against the Netherlands in Rotterdam in October 1993.
An unlikely away win over the Dutch would virtually have guaranteed England's qualification. With better luck, they might just have achieved it.

Admittedly, the Dutch dominated the match and had a Frank Rijkaard goal dubiously ruled out for offside. Nevertheless, England hit the woodwork twice through stunning long-range strikes from Paul Merson and Tony Dorigo.
Ronald Koeman was also extremely fortunate not to be sent off when he hauled down Platt, who only had the keeper to beat. To add insult to injury, Koeman opened the scoring for the Dutch minutes later, with a deftly clipped free kick which deceived David Seaman.
Bergkamp soon added a second, and England's qualifying hopes were all but extinguished. 
In 'The Impossible Job', the poignant yet often cringe-making fly-on-the-wall documentary about England's qualifying campaign, we see Graham Taylor raging against the referee in Rotterdam, saying to the linesman: "Tell your mate he's just cost me my job." Ultimately, however, England only had themselves to blame for a shambolic qualifying campaign.
England's 7-1 win over San Marino in their final qualifying game - in which the minnows took a shock lead - was no more than a footnote. For only the third time in their history, England failed to reach the World Cup finals.
They've qualified for every World Cup since then - though they may have wished they hadn't in 2014, having been eliminated after just two matches.