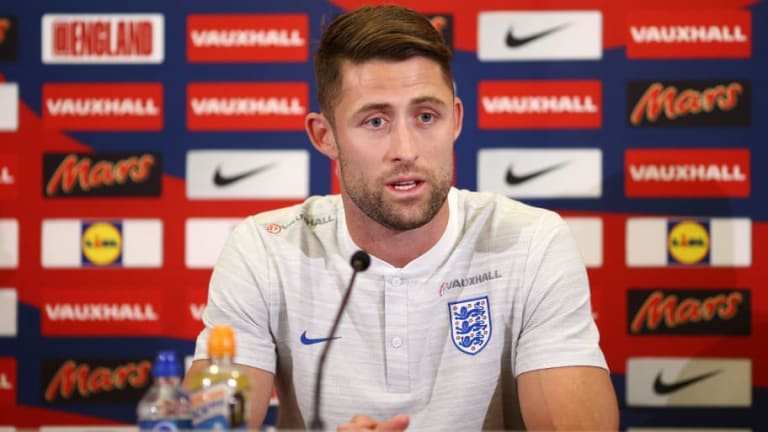 'He's Been Good for Me': Chelsea Captain Gary Cahill Speaks Out on Antonio Conte Future
Blues captain Gary Cahill has claimed he has 'enjoyed the success' under Antonio Conte, but refused to categorically say whether he wants the Italian to continue as Chelsea boss next season.
Much speculation has surrounded Chelsea in recent days with reports claiming the club are on the verge of replacing Conte with his countryman Maurizio Sarri.
While Conte may be set for the exit door after an underwhelming second season at Stamford Bridge, 32-year-old Cahill can partially attribute his return to the England squad to his manager at club. The former Bolton defender's was shown faith by Conte in the latter half of the season as Chelsea signed off the season with an impressive FA Cup victory over Jose Mourinho's Manchester United side.
Speaking on England press duties, Cahill was asked about Conte's situation at Chelsea and whether he wanted the former Juventus boss to continue at Stamford Bridge.
Cahill said: "He's been good for me, I've taken things fro him, like I have with the rest of the managers and I've enjoyed the success we've had together. He's been great.
"It has been difficult because you've see the speculation [regarding his future] for so many months now.
"It's been difficult but like I said, the only aim for us, for the manager, for the players, was to work collectively together and finish the season very well i.e. win the [FA] cup, and we managed to do that together.
"We've won two major trophies with the manager up til now, so it's been good."
In addition, Cahill has claimed that he was always confident of making England's World Cup squad for Russia later this summer, despite being omitted from the Three Lions squad for their friendlies against Italy and the Netherlands.
The veteran centre back fought himself back into contention late in the season under Conte's guidance at Chelsea, and the Blues defender is now set to travel to Russia next month.
When asked if he believed his World Cup dream was over in March, Cahill replied: "No I didn't. I felt like it had taken a knock.
"Missing out on the squad, especially the last one before you meet up, was kind of a big squad to miss out on.
"I realised that maybe it had taken a little knock and I really had to dig deep and try and perform between then and the end of the season to get myself back in the frame.
"That is the way it's worked out. Of course last time I was disappointed. There was a lot going at that moment in time and I missed the squad. But I never didn't have the belief that I could make the squad."