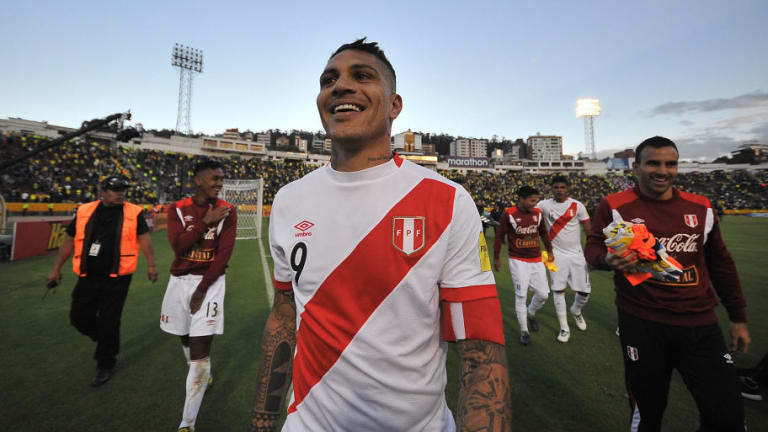 Peru Captain Paolo Guerrero Cleared to Play in World Cup After Court Temporarily Lifts Drugs Ban
Peru have been handed a huge boost ahead of the 2018 World Cup after captain and all-time top scorer Paolo Guerrero was cleared to play despite a drugs ban.
Guerrero tested positive for cocaine in October and was given a twelve-month ban by FIFA, which was then halved to six months by FIFA's appeal committee.
The original sentence was completed in May but within two weeks the Court of Arbitration for Sport (CAS) had extended Guerrero's ban to 14 months after an appeal by the World Anti-Doping Agency (WADA).
It would have meant that Guerrero, who has scored 32 goals in 86 appearances for his country, would miss Peru's first World Cup appearance since 1982.
In a remarkable act of sportsmanship, the captains of Peru's three Group C opponents - France, Denmark and Australia - all wrote to FIFA requesting that Guerrero's ban should be lifted so that he could compete at the tournament.
BBC Sport reports that a Swiss tribunal has now ruled that the extension was "unjustified" and is "provisionally deprived of effect." Guerrero will therefore be free to represent his country in Russia.
Guerrero made his debut for Peru in 2004 and sits 8th in the list of all-time appearance makers for La Blanquirroja. In 2016 he passed Teofilo Cubillas to become his country's record goalscorer.
Peru have warm up matches against Saudi Arabia and Sweden to play before flying out to Russia ahead of their first World Cup match for 36 years. Their campaign gets underway against Denmark in Saransk on 16 June.
They then face France in Yekaterinburg five days later before finishing in Sochi against Australia on 26 June.