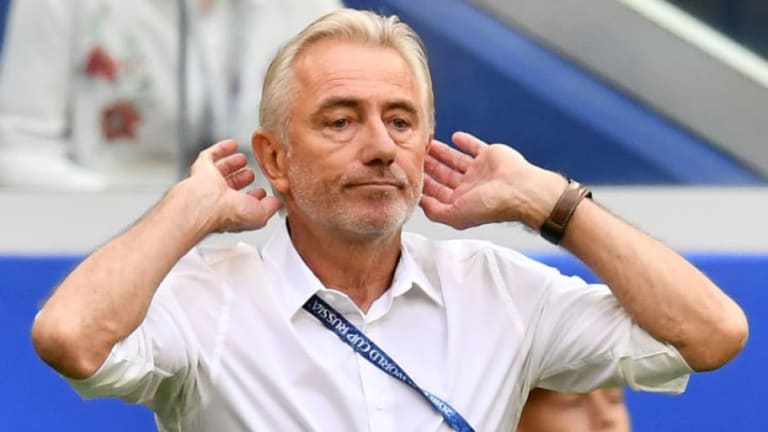 Bert van Marwijk Hopes Australia Players Learn From World Cup Experience After Peru Defeat
Departing Australia manager Bert van Marwijk was stoic in his emotions after the Socceroos were eliminated from the World Cup with defeat to Peru in Sochi.
Goals from Andre Carrillo and Paolo Guerrero meant that Australia were the only team to finish Group C without a win to their name. Denmark and France's draw in Moscow meant that even a win wouldn't have been enough for Van Marwijk's team to go through.
The Dutchman admitted that he had unusual emotions after his final match in charge.
"It's a little bit of a different feeling after this game," he said, as quoted by BBC Sport.
"I heard Denmark played a draw, so even if we won by three or four goals it wouldn't have mattered, other than the feelings for the players."
Van Marwijk took over from Ange Postecoglu in January but was never likely to be a long-term hire. Former Australian international Graham Arnold will replace him as manager of the national team next month.
Australia did better at the tournament than many people would have expected, drawing with Denmark and producing a fine performance against France, but their only two goals came from the penalty spot and that lack of a cutting edge ultimately cost them.
"I liked the period of time I worked with these guys," van Marwijk reflected. "I learned from them and I learned from their mentality.
"The way they improved, you don't see that that often on this level. I hope they learned something in the past few months. They can learn from good things but also from bad moments."
The defeat means that Australia's run without a World Cup win will extend to 12 years by Qatar 2022.