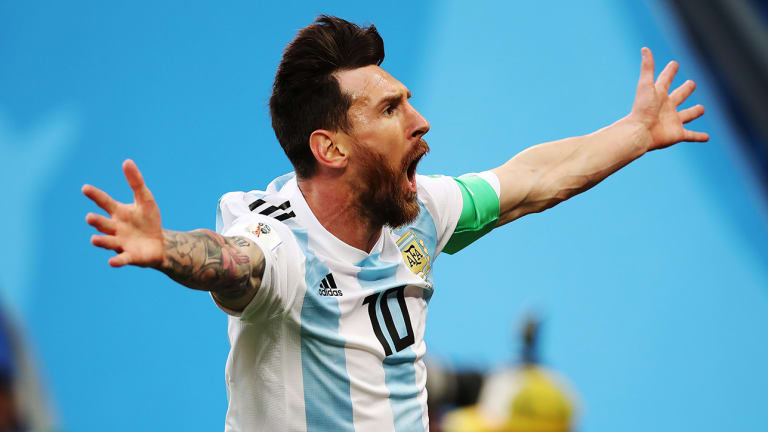 World Cup Daily Podcast: Argentina Comes Back From Dead in Group D
Marcos Rojo's late goal brought Argentina back from the dead, surviving Group D and knocking Nigeria out of the tournament in the process. 
Marcos Rojo's late goal brought Argentina back from the dead, surviving Group D and knocking Nigeria out of the tournament in the process. 
Recapping the 13th day of the 2018 World Cup, Grant Wahl and Brian Straus discuss Argentina's miraculous survival in Group D after Marcos Rojo's late goal brought the Argentines back from the dead and knocked Nigeria out of the tournament. Meanwhile, Brian laments having to be at France and Denmark's 0-0 tie, by far the dullest game so far in Russia 2018, that saw both teams advance from Group C. 
Listen to the full episode below, and be sure to subscribe to our podcast on iTunes to hear each and every episode throughout the 2018 World Cup.
Here's a selection of episode 13, which can be listened to in its entirety in the podcast console above:
BRIAN STRAUS: Those two touches by Messi and then that shot. What a performance, what a goal, how clutch. It was awesome. Just the juxtaposition of a game that I was at today, where literally nothing was as stake and they were literally just trying as hard as they could not to sweat, to a game where, like I said. Mascherano was bleeding all over the place and everybody was going insane. Have there been like 50,000 penalties at this World Cup? It's just bonkers. And there've been so many late goals. What a group. We knew this would be probably the most tight and intense and compelling group, and it was.
GRANT WAHL: I also want to give some credit on the first Messi goal to Ever Banega. His ball was tremendous out of the midfield and I thought Argentina's midfield overall was a lot better tonight. I wonder why Banega didn't start either of the first two games and you see the way he played tonight? But yea, the touches by Messi: The first touch off his thigh, the second touch, and then a right-footed blast—and that's left-footed guy, who had a pretty great right-footed shot for the early goal. And you saw him seem to have a bit of a weight lifted from his shoulders and I thought, 'Well, Argentina's just gonna score a few more goals and they're gonna be fine.' And then they decide to call this penalty early in the second half on Mascherano for a wrestling move in the box—which, I think by the letter of the law, certainly would be viewed potentially as a penalty. But, it wasn't nearly as blatant as some of the wrestling moves that we've seen in this tournament that haven't been called.
STRAUS: Maybe the weight lifted from Messi's shoulder's when Ronaldo missed that penalty. 
WAHL: [Laughs].
STRAUS: Maybe that was it. Maybe he saw that and he stroked his beard and he pet his goat and he came out and led Argentina to the round of 16. And dude, they're gonna play France! Has there ever been a more—I mean, I'm sure there has been and people will point it out—but, what a bonkers, star-studded, incredible—and actually that whole quartet: Uruguay and Portugal, the winner of that will play the Argentina and France—and I wonder if there's been a more trophy-laden quartet, quarter of a bracket in a World Cup. I mean, decorated teams, big stars and only one of them will get to the semis. That's just gonna be awesome.  
WAHL: Think about Rojo's goal, by the way. Here is a central defender, not up on a set piece or anything, he just happens to be in the box. 
STRAUS: This tournament's insane. It's absolutely bonkers. 
Continue listening in the podcast above or download and subscribe to the podcast here.