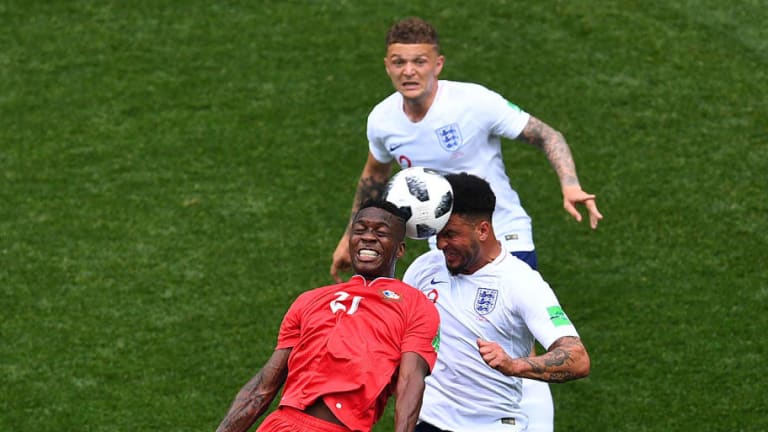 90min Exclusive: Ledley King Defends Kyle Walker Role After Arsene Wenger Doubts
Ledley King has defended Gareth Southgate's decision to move Kyle Walker into an auxiliary centre-back position for England, after Arsene Wenger questioned the switch earlier in the week. 
The former Arsenal boss called the Manchester City wing-back 'not a real defender, especially not a central defender' but King, speaking to 90min at the William Hill Arms, insisted that the ex-Spurs man has all the tools to succeed. 
"I saw Kyle play in a back three for Sheffield United when he was a young player," he said, "and he looked very good there. Obviously it's not been his main position for many years now, but he's got all the tools to do it and the more he plays there the easier it becomes. 
"Obviously the body shape at times will be different, but he's got all the tools to be a very good player in that position - and it works well for the team, because he's got that real pace at the back. He also allows the manager to play Kieran Trippier at right-back, and he's excellent going forward and puts great deliveries into the box."
King continued to praise Trippier's performances in Russia, adding: "For someone with not many caps to play as well as he has, with such confidence to step up and take free kicks, which isn't something we see too much at Tottenham because of Eriksen! The confidence that he's shown has been great.
"Of course Harry [Kane] has been great too, there's no surprise there. I've seen it time and time again, he scores early and it sets him up. Once his first went in I expected a big tournament from him. Lingard's done well...everyone's done well, everyone's played well at the moment. I think that's down to the manager, and the confidence he gives them to go out and express themselves."
Tottenham have contributed the most players to Southgate's 23-man group, with five squad members currently on their books and Walker making his name at White Hart Lane, and King praised Mauricio Pochettino's part in the process.
"First, you need a manager at a club who's going to give young players a chance to express themselves and to evolve. Pochettino loves developing young players - so many times we see managers who want to buy players when they have someone there who just needs developing, and can be a better player. 
"Mauricio's great with that, he identifies young, talented players and he enjoys improving them. We've seen everyone at Tottenham improve under him, that's a big part of the England squad these days and why they're so able to do well under the new captain, Harry Kane, and his leadership.
"It didn't surprise me when he was given the captaincy. If I'm honest, if you look at the England squad and you had to pick one name as a guaranteed starter, it'd be Harry. That always helps. Obviously Henderson was captain before, but I'm not sure whether Gareth knew 100% if he would be starting or not. 
"He's helped Liverpool get far in the Champions League, but there were times he wasn't starting for Liverpool, and the manager has to take all of these things across the season into consideration."
Ledley King was speaking at the William Hill Arms, the pub which will offer fans the ultimate England watching experience including expert analysis, plus free food and drink. For your chance to win exclusive access to England's last 16 fixture at the pub, head to William Hill's Twitter or Facebook pages. William Hill has over 200 markets available on every World Cup match #ThisIsMore #itscominghome