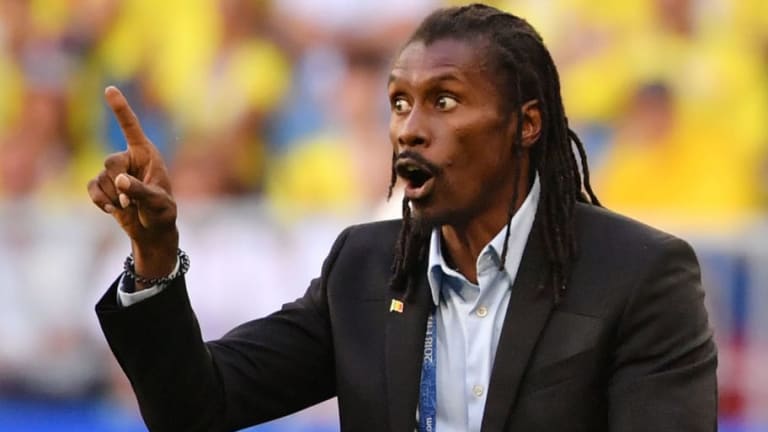 Senegal Boss Aliou Cissé Defends 'Committed' Team After Side Exit World Cup Due to Fair Play Record
Senegal manager Aliou Cissé defended his side following their World Cup group stage exit, as their 1-0 loss to Colombia saw them eliminated - with their fair play record proving the decisive separating factor between the West African nation and Japan.
Speaking in the wake of his side's premature exit, via Goal, the former Birmingham City midfielder said: "This is the law of football. We don't qualify because of fair play, we have a fewer number of points in the fair play but today I'm proud of my team, their work and today Senegal does not qualify because we don't deserve it. This is life.
"This is one of the rules (fair play). We have a number of rules which are established in the regulations and we have to expect that. We would have preferred to be eliminated in another way, it's a pity for us but this is how it works. We knew these were the regulations but we are fully committed and since we are committed maybe we get more yellow cards, it's a pity."
"I think my players were aware of the regulations but as I said Senegalese players are highly committed so its difficult to play well if you don't play with commitment, I don't know if this regulation is cruel or not but I can't ask my players to go out on the pitch to avoid yellow cards. You have to be in contact with other players and it's a shame it worked against us.
"I think we did control the match and I'm disappointed for my team and for this generation and these players who fight every single day for our country. I will continue to encourage them to be with them because I'm sure we can expect many pleasant things in the future."
A second half header from Colombia defender Yerry Mina secured his side's progression to the next round, while Japan still qualified despite their 1-0 loss to Poland. Japan will face Belgium in the next round, while Colombia have set up a mouthwatering clash against Gareth Southgate's England next Tuesday.
In other World Cup news, Colombia could well be without their talismanic forward James Rodríguez for their last 16 match against England. The 2014 World Cup Golden Boot winner came off after just thirty minutes against Senegal, clutching his calf, and it remains to be seen whether he will return in time to help his side take on the Three Lions in Moscow.