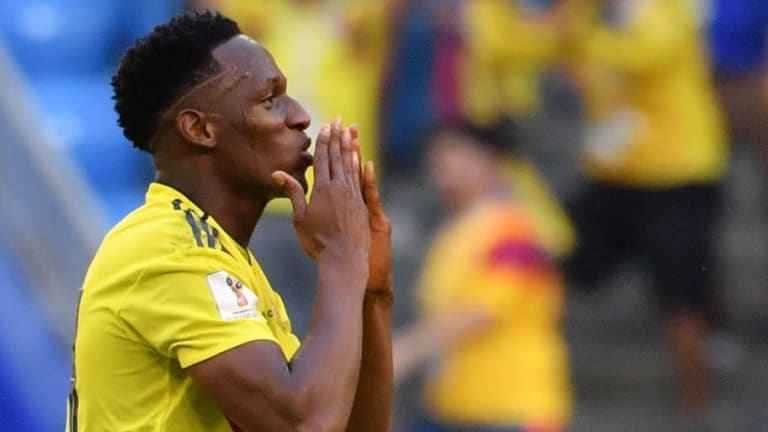 El mensaje de Yerry Mina al FC Barcelona tras la clasificación de Colombia a octavos
Colombia logró clasificarse para los octavos de final como primera del grupo H en parte gracias a los goles del defensa azulgrana que les ha mandado un recadito a los dirigentes del club.
Yerry Mina está siendo uno de los nombres propios en Colombia durante este Mundial. El defensa del FC Barcelona ha conseguido ver puerta en dos ocasiones en los tres primeros partidos, el primero de ellos abriendo la lata en la goleada ante Polonia (0-3) y el segundo y decisivo en la victoria frente a Senegal (0-1) donde fue elegido Man of the Match.
El defensa cafetero está teniendo una gran actuación en Rusia lo que no se sabe es si eso será suficiente para mantenerse en el FC Barcelona. Mina llegó al conjunto azulgrana en el pasado mercado de invierno y tuvo poco protagonismo. Además, con la futura llegada de Arthur Melo al Camp Nou en el Barcelona ya estarían ocupadas las tres plazas de extracomunitario (Coutinho, Paulinho y Melo) por lo que el colombiano sería el gran sacrificado.
Por todo ello son varios los rumores que le sitúan fuera del FC Barcelona para la próxima temporada pero el defensa tiene muy claro cuál es su objetivo. Después del partido frentea Senegal, Mina ha hablado sobre su futuro en los micrófonos de la Cadena Cope: "Mi sueño es hacer historia en el Barcelona, el mejor club del mundo", manifestó el defensor.
No sabemos cómo serán recogidas esas palabras en el club azulgrana y si apostarán por mantener al colombiano en la plantilla. De momento Mina sigue en Rusia donde se enfrentará a Inglaterra el próximo martes en los octavos de final.
¡No te olvides de seguirnos también en nuestra cuenta de Instagram, @90min_es!