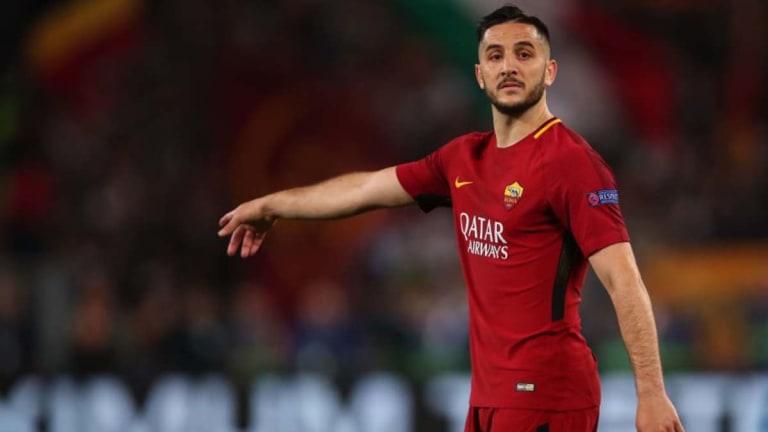 Kostas Manolas Admits Interest in Joining Man Utd & Barça Amid Rumours of Roma Exit
AS Roma defender Kostas Manolas has admitted that he is eager to join one of European football's biggest clubs this summer, naming Manchester United, Bayern Munich and Barcelona as potential destinations ahead of the new season.
The 27-year-old was expected to join Russian giants Zenit Saint Petersburg last summer after a £30m fee was agreed with the Giallorossi, but Manolas snubbed the chance to complete a medical with the club and instead opted to stay in the Italian capital.
The former Olympiacos defender has revealed to Greek media that he could be open to leaving the Stadio Olimpico this summer, reeling off a handful of clubs that Manolas would be keen on joining following his four-year spell in Rome.
"It's only natural you want to play for the biggest clubs, like Barcelona, Manchester United, Paris Saint-Germain and Bayern Munich," Manolas told Sport24. "I think I could make the difference anywhere I went, even at Barcelona. Although I have never spoken to Barcelona."
Manolas has become one of the most highly regarded defenders in Europe during his time at Roma, often being linked with a move away from the Serie A. 
But this summer could be the year that the defender gets his move after admitting his interest in joining one of the continent's biggest clubs, although the Manchester Evening News have confirmed there has been no contact with United.
The 27-year-old signed a contract extension with the Giallorossi less than 12 months ago so securing a move away from the club could be difficult. 
However, the Roma's sporting director Monchi has already admitted this summer that there is no such thing as an 'unsellable' player after he was quizzed over the future of rumoured Liverpool target Alisson Becker.